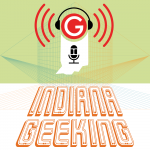 Good day, friends, family, followers, and fans! Bri and I are back with your end of the week reward, the Indiana Geeking Podcast! This week, Bri and I talk about the creative process, and how we do the things we do! With Bri, you have blogging and comic creation, both two very different types of writing. With me, you have blogging and creating a podcast, like this one you are listening to! So, Bri and I discuss that, the steps we take, and information that might help you, too, create cool things! So, put on your headphones, grab a healthy snack, and kick back while Bri and I fill your earholes with creative tips!

Links of note:
Where to find Bri online!
Where to find Tony (and, by extension, this blog) online!
Where to find the Podcast online!
Support the Blog

Donate Button (It's on the sidebar! —>)

Best of Indy Poll – Vote @IndianaGeeking for Best Twitter Feed! FINAL DAY!!! PLEASE HELP!!!
Music for this episode provided by the Free Music Archive:
That should do it for this week! As always, thanks for listening, be excellent to each other, and I'll see you on #MediaMonday!
Tony