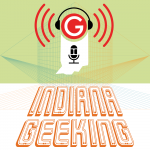 Good day, my friends, and happy Friday! We have made it to the end of the week, which means (this week) it's time for another episode of the Indiana Geeking Podcast! This week, I packed up the recorder and microphones to delve deep into the dungeon lair of one of the area's top painters of miniature figures! That's right, Will Thompson from Miniatures of Tomorrow is joining me on the podcast, to talk about painting, tips, tricks, and competing at the best four days in gaming! So, sit back, make sure you're not mixing up your coffee cup with your brush cup, and let's find out what makes this hobby so keen!
Links of note from the episode:
Three Things You Need To Know
Where to find Will online (Remember, some current items are NSFW)!
Where to find Tony (and, by extension, this blog) online!
Where to find the Podcast online!

Stitcher Radio – Please, feel free to rate and leave a review!
iTunes – Please, feel free to rate and leave a review!
Contact the Blog!

Support the Blog

Donate Button (It's on the sidebar! —>)

Music for this episode provided by the Free Music Archive:
Thank you all for listening! As always, be excellent to each other, and to yourselves! I'll see you all in a couple weeks!