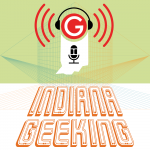 Happy Friday, my friends! It's been two weeks, so the Indiana Geeking Podcast is back! This week, I'm talking the upcoming Midwest Toy Fest with my friend, and guest, Michael Trent! Michael has been helping run the show since the beginning, so we talk about this year's show, how crazy you have to be to run a show, and we get off topic quite a bit. This episode was recorded at Books & Brews on 96th Street, so please pardon all of the background chatter and noise, especially towards the end! So, if you want to hear about this cool show, which will be at the Wyndham West Hotel on November 5th and 6th, then I recommend you kick back, put on your headphones (or stick in your earbuds), and give us the next 44 minutes and 17 seconds of your time!
Links of note from the episode:
Three Things You Need To Know
Midwest Toy Fest Guests and Sponsors Mentioned!
Where to find Midwest Toy Fest online!
Where to find Tony (and, by extension, this blog) online!
Where to find the Podcast online!

Stitcher Radio – Please, feel free to rate and leave a review!
iTunes – Please, feel free to rate and leave a review!
Contact the Blog!

Support the Blog

Donate Button (It's on the sidebar! —>)

Music for this episode provided by the Free Music Archive:
Thank you all for listening! As always, be excellent to each other, and to yourselves! I'll see you all in a couple weeks!