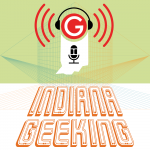 Happy Friday, my friends! I know, it's been a few weeks, but I'm back with a new episode of the Indiana Geeking Podcast! During Midwest Toy Fest, I had the opportunity to sit with Melissa Kocias, the con chair for Starbase Indy, to talk about this long-running, fan-run convention that's coming up next weekend! That's right, did you know Indianapolis had a Star Trek convention over Thanksgiving weekend? Well, pull up a chair, and give Melissa and I the next half an hour to talk about the con, what she Geeks out about, and share some memories of past Starbase Indys! Trust me, this show is a lot better use of your time than camping out in front of a big box, mass-market retailer, trying to get one of three televisions that you REALLY don't need!
Links of note from the episode:
Three Things You Need To Know
Starbase Indy Guests!
Where to find Starbase Indy online!
Where to find Tony (and, by extension, this blog) online!
Where to find the Podcast online!

Stitcher Radio – Please, feel free to rate and leave a review!
iTunes – Please, feel free to rate and leave a review!
Contact the Blog!

Support the Blog

Donate Button (It's on the sidebar! —>)

Music for this episode provided by the Free Music Archive:
Thank you all for listening! As always, be excellent to each other, and to yourselves! I'll see you all in a couple weeks!