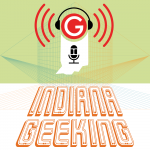 Good day, my friends! As we creep up to Gen Con, it's time for another podcast! This one is really cool, because it's with a few gentlemen from Plow Games, makers of Last Front, which was at both Gen Con last year, and Indy PopCon this year! While they won't be at Gen Con this year, they are a pretty cool local game maker, and they gave me a run through of both Last Front and their new game, Hexes and Henchmen (Working title)! So join myself, James Vining, Greg Phillips, and microphone-less Tyler as we run through Last Front, Hexes and Henchmen, and talk about the company and other myriad items. So, sit back, and let us all fill your earholes with our voices, and the sounds of dice, for the next hour and ten minutes!

Time Stamps!
0:00 – 1:15 Shocktober in Irvington Sponsor Message
1:16– 1:22 Opening
1:23– 6:00 "A Piece of the Action", Five Year Mission, Year Three
5:53– 1:09:00 Interview with Plow Games
1:09:00 – 1:03:04 "Keep Beach City Weird", The Shake Ups, The Shake Ups in Beach City
1:09:14 – 1:10:47 Closing, Patron Thanks
Links of note!
Where to find Plow Games online!
Where to find Last Front online!
Music featured on this Episode
Where to find Tony (and, by extension, this blog) online!
Where to find the Podcast online!

Stitcher Radio – Please, feel free to rate and leave a review!
Apple Podcasts – Please, feel free to rate and leave a review!
Contact the Blog!

Sponsor – Shocktober in Irvington
Support the Blog

Donate Button (It's on the sidebar! —>)
Thank you all for listening! As always, be excellent to each other, and to yourselves! I'll see you all soon!