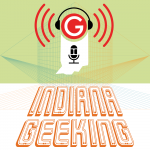 Good day, my friends! Guess what's back? That's right, it's time to start Season 3 of the Indiana Geeking Podcast! Thank you all for bearing with me as I took a three month long break, but I've got ideas, I've got new music, and I'm trying some new stuff for 2017! For those who are curious, I'm trying out the podcast recording site Zencastr, and the main body of the podcast was cleaned up using their post-production service. Also, we were cut short by the thunderstorms that rolled through central Indiana on Tuesday night (the 28th of February) and you can hear the thunder, and references to that. Finally, and the most important part, are the folks I talked to! I give a huge thanks to Chad Yadon and Tommy Day of Literally Wizards for sitting and talking with me, as well as helping me learn this platform! Also, I want to extend a huge thanks to Five Year Mission for allowing me to use their music in this, and upcoming episodes!
Now, let's sit back, and let Chad, Tommy, and me fill your earhols for the next almost 34 minutes!
Now, some links of note:
Where to find Literally Wizards
Where to find Buy the Rights
Where to find the podcast article we referenced
Music for this episode provided by Five Year Mission

Tracks used: "Charlie X" and "Miri" from their album, Year One.

Where to find Tony (and, by extension, this blog) online!
Where to find the Podcast online!

Stitcher Radio – Please, feel free to rate and leave a review!
iTunes – Please, feel free to rate and leave a review!
Contact the Blog!

Support the Blog

Donate Button (It's on the sidebar! —>)
Thank you all for listening! As always, be excellent to each other, and to yourselves! I'll see you all soon!