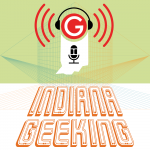 Happy Wednesday, my friends! I am so excited for everyone, because this week, we have a new Indiana Geeking Podcast! Not only do we have a new podcast, we have more guests! That's right, this week we have The Shake Ups on the podcast! Voted "Best Pop Band" in Nuvo's "Best of Indy" competition last year, The Shake Ups are debuting their new album this weekend, with a 21+ show at Radio Radio on Friday (link) and an all ages show at Hero House Comics on Saturday (link)! So, let's kick back, set aside about 42 minutes, and join Lee, Patrick, Savannah, and Luisanna as we talk about the new album, their past, and hopeful future projects for this awesome and talented group of local musicians! Added bonus: three songs from their new project! Check it out!
Links of note!
Where to find The Shake Ups online!
"We Are The Crystal Gems" single (iTunes)
Little Guardians (Lee & Ed's Comic)
Where to find Tony (and, by extension, this blog) online!
Where to find the Podcast online!

Stitcher Radio – Please, feel free to rate and leave a review!
Apple Podcasts – Please, feel free to rate and leave a review!
Contact the Blog!

Support the Blog

Donate Button (It's on the sidebar! —>)
Thank you all for listening! As always, be excellent to each other, and to yourselves! I'll see you all soon!