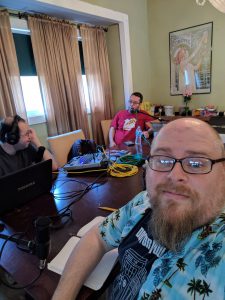 Happy Wednesday, my friends! It is time for another episode of the almost-monthly Indiana Geeking Podcast! On this, the fourth episode of 2017, I continue a tradition that started in 2015, where I sit and talk Magic: The Gathering with some cool local Geeks who are deep into the game! Joining me on this episode is Jarred, who is into the Magic Finance scene, and is joining me for a record third guest appearance on the podcast! Along with Jarred, we also have our friend T.J. joining us, who has been a hobby player for almost twenty years, and has a lot of stories and information on the history of the game. This episode is mainly a conversation between Jarred and T.J., with me occasionally commenting, and it's a really cool listen, especially if you're fond of the game! So, sit back, and let the three of us fill your ear holes for the next hour and forty one minutes!
Links of note!
Previous Magic: The Gathering Episodes
Where to find Jarred online!
Where to find T.J. online!
Music featured on this Episode
Where to find Tony (and, by extension, this blog) online!
Where to find the Podcast online!

Stitcher Radio – Please, feel free to rate and leave a review!
Apple Podcasts – Please, feel free to rate and leave a review!
Contact the Blog!

Support the Blog

Donate Button (It's on the sidebar! —>)
Thank you all for listening! As always, be excellent to each other, and to yourselves! I'll see you all soon!