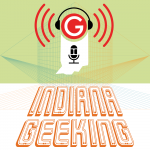 Hey everybody!
Listen, I know I said I was going to have a new podcast episode for you all today, but I'm gonna shoot straight with you:
It wasn't gonna be very good.
To be honest, I have some interviews coming down the pipeline, even in the next few weeks, but I had nothing today. Today was going to be, well, this blog post! That just felt like that meeting/conference call that could have been handled with an email-sorta thing, you know? So, here's the run-down of what's coming down the pike!
First off, I'm needing to find some time to work on how the episodes sound, and giving myself time to actually listen to them before putting them out there, as opposed to just spot checking. I've been re-listening to some of the episodes released in the past year, and the audio levels have been all over the place, I've had some weird audio artifacts in the recordings, and on one of my episodes, I flubbed two parts of the closing, and forgot to edit them out! I know I can do better, and you all deserve better, so I'm going to be trying to put more focus on that. Hey, at least I figured out how to take care of the voices only playing in one ear issue, right?
Next, as I said, I do have some interviews coming down the pike, and they should be some good ones! I've reached out to some local bands, some local authors, some event organizers, and that's just in the last few weeks! I've got a list of folks as well, that has both expressed interest in talking to me, and that I need to approach. Plus, I know some people that have been on in the past that I would like to have on again! I just need to nail down these interview times.
I'm really working on getting back into the bi-weekly release schedule for everybody. Heck, I'm almost tempted, if I can nail down the interviews, to go from blogger with a podcast, to podcaster with a blog. By this, I mean going back to a weekly podcast, and only posting up when I have updates on what I'm working on, or things like that. I don't know yet. All of this is fun, but I need to change things up a bit every now and then, ya know?
Either way, I'm definitely shooting to try to have a specific interview up on the 20th. No, it has no significance with 4/20 (you know that's not my scene!), it's just the deadline I've set for myself for this particular interview!
So, wish me luck, let me know who YOU would like to see on the podcast down in the comments, and I'll see you all next week!
Tony