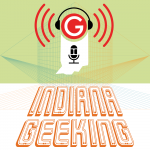 Happy Friday, my friends! Here we are, kicking off the fourth year of the Indiana Geeking podcast with episode one! To kick off this year, I finally took the time to sit with current writing members of #TeamGeeking, Grant and Lizz, to talk about them, their highlights of 2017, things they wish to work on, and their goals for 2018! It was a really fun conversation that reminded me that I am blessed to work with some great people, and I need to have the members of the team on the podcast a bit more often! In addition, since it's a #TeamGeeking episode, I did also talk about things I need to work on, and some of my goals for 2018. So, put on your headphones, grab a cup of tea, and kick back and let the three of us fill your earholes for the next 59 minutes!
Time Stamps!
0:00 – 0:08 Introduction
0:08 – 3:37 "The Trouble With Tribbles Part 5" by Five Year Mission, The Trouble With Tribbles EP
3:37 – 56:17 Discussion with Grant and Lizz
56:18 – 59:04  "Keep Beach City Weird", The Shake Ups, The Shake Ups in Beach City
56:31 – 58:05 Closing, Patron Thanks
Links of note!
Where to find Grant online
Where to find Lizz online
Mentioned in the Episode
Music featured on this Episode
Where to find Tony (and, by extension, this blog) online!
Where to find the Podcast online!
Contact the Blog!
Support the Blog

Donate Button (It's on the sidebar! —>)

All notes for this episode can be found at http://geekinginindiana.com/igp-y4e01/