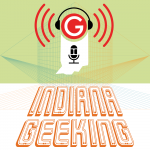 We are back, with another episode of the Indiana Geeking Podcast! This week, we've got someone a bit different! Phil Kellar is a local costumer, who has replicated costumes from all sorts of sci-fi franchises over the years, and is currently running a business called "Spacey-Wacey Wear", helping supply both Rebels and the Resistance with the soft parts they need to fight the Empire and the New Order. Phil's been a friend of mine for years, and I wanted to talk to him a bit about his history making costumes, tips for new builders, and why something like this costs a pretty penny! I would know, myself, because Phil is the person helping me out with the soft parts to my Resistance Pilot! So, let's sit back, and let Phil and I (with music by The Shake Ups and Five Year Mission) fill your earholes for the next 45 minutes!
Time Stamps!
0:00 – 0:09 Introduction
0:00 – 4:44 "Immunity Syndrome" by Five Year Mission, Year Three
4:45 – 43:02 Discussion with Phil
43:02 – 44:48  "Keep Beach City Weird", The Shake Ups, The Shake Ups in Beach City
43:16 – 44:51 Closing, Patron Thanks
Links of note!
Where to find Phil online
Mentioned in the Episode
Music featured on this Episode
Where to find Tony (and, by extension, this blog) online!
Where to find the Podcast online!
Contact the Blog!
Support the Blog

Donate Button (It's on the sidebar! —>)

All notes for this episode can be found at http://geekinginindiana.com/igp-y4e02/