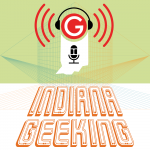 Happy Friday, my friends! We're back with the second episode of the Indiana Geeking Podcast, the podcast where we focus on Hoosier-based creators and events!
This month, Lizz and I took a trip to one of the top 3D Printing events, the Midwest RepRap Festival. Held in Goshen, it brought in makers from across the world to show off their work, their machines, and eat tacos. As we were looking around, and preparing to start our own journey into 3D printing (more on that next week), we found some folks from here in Indiana that we wanted to talk Hoosier business with. Luckily, I had the trusty old Zoom H1 with me, so I was able to get some interviews with some folks in northern Indiana who make 3D Printers, filament, and use all of this to make their own props and costumes!
So, without further ado, join me as I give you some top events for the month of April, then jump into a series of short interviews with some of the local folks tabling at MRRF! Don't worry, this one's only about 45 minutes long! NOTE: You can find the Facebook Photo Album with the photos we took at this link.
Time Stamps!
0:00 – 0:07 Introduction
0:07 – 3:28 "By Any Other Name" by Five Year Mission, Year Four
3:28 – 5:31 Episode Introduction and Upcoming Events – Head Geek, Tony Troxell
5:36 – 18:02 Interview with Steve Wygant, SeeMeCNC
18:09 – 33:18 Interview with Caleb Fairres, Prop Builder & SeeMeCNC
33:24 – 41:37 Interview with Jim Spencer, FilaBlend
41:44 – 42:35 Wrap-up – Head Geek, Tony Troxell
42:35 – 45:22  "Keep Beach City Weird", The Shake Ups, The Shake Ups in Beach City
42:49 – 44:31 Closing, Patron Thanks
Links of note!
Mentioned during the intro:
Where to find the Midwest RepRap Festival online:
Steve Wygant, SeeMeCNC
Caleb Fairres, Prop Builder & SeeMeCNC
Jim Spencer, FilaBlend
Music featured on this Episode
Where to find Tony (and, by extension, this blog) online!
Where to find the Podcast online!
Contact the Blog!
Support the Blog

Donate Button (It's on the sidebar! —>)
All notes for this episode can be found at http://geekinginindiana.com/igp-y5e02/