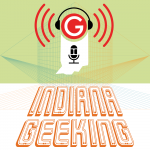 Good day, my friends and listeners! Even though, now that I think about it, if that were a Venn Diagram, it would be almost completely overlapping circles! This week's episode of the Indiana Geeking Podcast is here to fill your ear holes with Geeky delights from not just myself, but fan favorite Bri Rudd! This week, I drop another "Top Five" list on Bri, and bring her wrath down upon me for not giving her time to prepare. Clocking in at around 35 minutes, it's not as long as last week, but it also didn't need to be! So, give us a listen, and I'll catch you on the other side of… the podcast… plug in?
Links of interest metioned in the podcast:
I don't want to spoil the films mentioned in the 'cast, but if you like any of them, give them a search using the Amazon link above this post? Affiliate monies, and all that fun stuff!
Where to find Bri
Music for this episode provided by the Free Music Archive:
Thanks for listening, everybody! Have a great weekend, and I'll see you all on #MediaMonday!
Tony