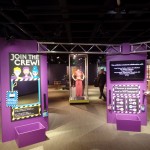 Note: This article was written to help promote the Inside Hollywood Films and TV exhibit at the Children's Museum of Indianapolis. The exhibit is now gone, but the memories of its awesomeness remain in blog posts such as this one! – Tony
I love learning how things work behind the scenes in Hollywood. The time I spent working at XFX was really interesting, seeing how practical effects worked, how foam latex, silicone, and gelatin make-up appliances were made, and how props were built. However, everything I did was behind the scenes, and there was never an opportunity for me to visit the sets of shows I worked on, like The Tick or Blade 2. However, a new exhibit at the Children's Museum of Indianapolis gives everyone a chance to see what happens on set!
Inside Hollywood Film & TV! You're on Set opened on January 31st, and is running through July 26th, and it gives you and your family a chance to see what happens on the set of everything from a comedy, to an action movie, and even animation. Walk into the exhibit, grab your backstage pass, and take a look at how to read a script, dress in wardrobe, what constitutes a prop, and how to act against a green screen. You also get the opportunity to learn about animation, with light tables set up to show you how to draw a sequence, plus the opportunity to sit and get your picture taken on the Simpson's couch!
The Children's Museum of Indianapolis does an excellent job bringing in exhibits that will pull in kids, showing them something cool, and also teaching them something. Not only does this exhibit have great stations letting people act out parts, and see how things work, but they also have displays on loan from Sony Pictures from films such as Hook, Ghostbusters 2, Men in Black, the Spider-Man films (Toby McGuire/Sam Raimi), and so much more. Exhibits like this make me very happy, so that's where most of the pictures come from. Some (not all) of the different items they have on display are:
Hook

Captain Hook costume
Captain Hook's Hook
Prop Weapons from the Lost Boys
Skateboard from the Lost Boys

Godzilla (1998)

Animatronics used for Godzilla

Men in Black

Monowheel from Men in Black 3
Agent J and K Costumes from Men in Black 3
MiB weapons from all three films
Neuralizer from Men in Black 3

Ghostbusters 2

Bill Murray's costume, and proton pack

Spider-Man

Green Goblin Props from Spider-Man
Doctor Octopus costume and animatronic arm from Spider-Man 2

Bewitched

Costume pieces from the film.

 Television

Costume Pieces from the following television shows

I Dream of Jeannie
Happy Days
The King of Queens
Between this exhibit, and some of their upcoming exhibits, this is a great time to visit this great museum, suitable for all ages! I'm thrilled I had the opportunity to visit this exhibit during my stint as a lifeguard for their Adult Swim Indy party, and I hope to go back later with my nephews to see how they do with the different stations! In the meantime, though, I'm going to give you a slideshow of some of the fantastic pieces they have on display.
This slideshow requires JavaScript.
Once again, for those who missed it:
What is it? Inside Hollywood Film & TV! You're on the Set
Where is it? The Children's Museum of Indianapolis
When is it running? Now Ended! Sorry! (07/26/2015)
Who will like it? Anyone with an interest in how television and film works, including animation. People who like movie props and costumes. People who enjoy cool things.
Where can I get more information? You can visit the website of the Children's Museum, and you can always see peeks of this, and other exhibits, on their Twitter and Instagram feeds!