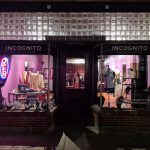 I've said it before, our state has really become a hub for Geeks. We have an abundance of conventions, of shops, and of events that cater to said Geekery. The costumer/cosplay community is very active, and there's always new people looking to join. Luckily, in the abundance of gaming shops, comic shops, toy shops, and the like here in Indianapolis, there is a new store that will help those folks out!
Incognito by Aris & Rome opened in Fountain Square in late August. They advertise as having "Costuming for all occasions and incidents", providing design work, made to order props and costumes, and costume repair. In addition, they also work with latex and body paint, and hold workshops to teach a variety of skills. Though I was aware of their opening, I couldn't make it due to post-Gen Con exhaustion and pre-Indiana Toy and Comic Expo prep. I was able to visit last night, though, and spent more time than I honestly intended talking with them, because they are that nice and awesome to talk to!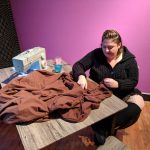 When I walked in, I was greeted by a woman at a sewing machine. This was Ruth, who manages the shop and makes the cool things. She showed me around the shop, which is set in one of the old buildings in Fountain Square, and maintains that look. They have dress forms with outfits on them, displays of jewelry, and a few racks of both commissioned outfits and items for sale. They do work with vinyl and leather, and I was shown one of their scabbards they made for a client. Then, we talked for over an hour about general Hoosier Geekery, my history (there was a friend in the shop that had a lot of questions), and what the shop does.
First and foremost, while they like to try to have some costumes on hand to make the shop look full, they have an issue with them selling fairly quickly! I guess, I can say "issue" because the entire goal is to sell merchandise, but it keeps things looking fairly empty. Still, you can walk by, or walk in, and still tell exactly what they do. The neat thing is, not only do they work in fabrics for costumes, but they also work with make up and props. They work with area theaters and show groups with their costumes, as well. In addition, they do a lot of classes. If you visit their Facebook page, located at the link near the bottom of the post, you'll see many of them set up as events. Classes on how to use a sewing machine, or how to style a wig, have happened, and this winter she's looking to do some classes on EVA Foam and Worbla, both of which are very popular components in the modern costumer's arsenal. In our discussions, we also talked about fx make up, especially the latex. While they do offer the ability to do a life cast, and go through the whole process from start to finish, it is not an inexpensive process, and they require 70% down so the process doesn't get started, and the customer changes their mind in the half-way process. I whole-heartedly endorse this, because no, no it is not.
They love being in Fountain Square, because they're friends with many of their neighbors, though they do miss Games Paradise which moved out around the same time they moved in. They are Geeks, indeed, and we have many mutual friends. They had a series of sold-out workshops at Gen Con this last year, and they are sponsoring the Costume Contest at Starbase Indy this coming November. They are very active in our community!
If you're looking into getting into costuming with something that's leaps and bounds above anything Spirit carries, or even just looking to improve your skill set, I recommend checking them out. Here's the information you need, followed by a slideshow of some of their work:
Who are they? Incognito by Aris & Rome
Where are they? 1060 Virginia Ave. Indianapolis, IN 46203
What are they? Your friendly local costume shop!
What is their parking situation? They are located in Fountain Square, so parking is sometimes tricky.
When are they open? They are open Monday by appointment, Tuesday through Saturday from 10:00 AM to 9:00 PM, and Sunday from 12:00 PM to 7:00 PM.
What is their phone number, in case I get lost and need directions? 317.492.9724
This slideshow requires JavaScript.