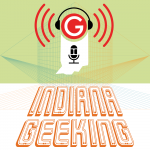 Good day, my friends! It's Friday! It's the end of the week, TGIF, time to get ready for another convention in downtown Indianapolis, and it also means it's time for another Indiana Geeking Podcast! This week, I talk about the blog's week in review, my thoughts on the Transformers exhibit at the Children's Museum of Indianapolis, my history with the Lexington Comic and Toy Convention, give a shout out to Gen Con, and more! So, let's just head down to the player insert, and see what we have going on!
Some of the topics mentioned in today's episode:
Also, as I mentioned in the show, the podcast is now available on both Stitcher and iTunes! Feel free to subscribe, rate me, comment on me, and be honest!
Next week, I'll be back with another week in review, I'll be talking about cool things to do, I'll give a run down on cool things I saw at Lexington, and as always, if you have any questions, let me know and I'll do my best to answer them!
Have a great weekend, my friends!
Tony