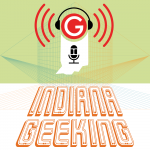 Good day, my friends. We've hit Friday, which means it's time for another episode of Indiana Geeking! This week will hopefully be my last solo episode for a while, and I thank you all for sticking with me as I'm learning the ropes, coming up with things to fill your earholes with, and just generally attempting to stop sounding like a freshman college disc jockey (89.5 WBKE, North Manchester, Indiana).
So, we're coming to the close of another wonderful week here in the Hoosier State. We have basketball happening, manhole covers flying, and creator signings in both Indianapolis and Muncie! Plus, tomorrow night, you can go to Lafayette to hear music from both a Star Trek band AND a My Little Pony band!
So, what say we see what I have to say?
Links of import in this episode:
Weekend Events found on Tuesday Tidbits
Blog Week in Review
Lexington Comic and Toy Convention
See you all next week! Keep being awesome!
Tony