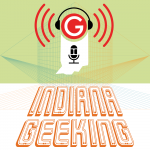 Happy Friday, my friends! Episode 6 is here for your listening pleasure, and I tell ya! This week really is a pleasure! Not only do you have me talking with you, but I was able to get Bri Rudd (Wednesday Comics, Oh No, Bri) to sit with me and talk about comics, her favorite shop, and devolve into talking about Fire Marshall Bill. Plus, thanks to the Free Music Archive (hat tip to Chris Ludden for this one!), I'm starting to experiment with adding some music to the podcast. So, without further ado, let's drop the embedded player in here, for those of you who have not tracked me down on the Stitcher podcast app, or on iTunes yet. Hrm, do they still have a Zune Music Store? I guess that's Microsoft Music, now, but do they still have podcasts? Anyway….

Links of note in the episode:
This week's blog posts: You're on the blog! Go nuts! Heck, I have over 400 posts here! I guarantee you'll find something you'll find interesting!
Bri's Stuff! Sure, you can always visit her Wednesday Comics posts, but you can also visit her website, which brings you to her Tumblr for the moment, until the site is developed. You can also find her on The Twitter!
Things to do this weekend: Everything mentioned, and more, can be found on Tuesday Tidbits!
Music used in the episode:
Come back next week, when Bri and I talk about our favorite comics and storylines!