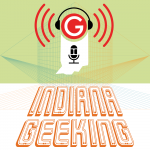 Good Friday, my friends! Episode 7 is here for everybody to partake of! This week, we run just a hair under 25 minutes, and when I say "we" I mean myself and the Mighty Bri! That's right, Bri is back, sharing the mic with me, as we talk about our favorite graphic novels, and I show how woefully out of date I am on comic books! We have a good time, and I hope you enjoy listening to us!
So, without further ado, here is Episode 7 – Geeking's Island.
For those who are interested in the books we're talking about, I strongly recommend visiting your Friendly Local Comic Shop. If you don't have that ability, here are some Amazon Affiliate Links to our favorite books!
For Bri, her top five:
And Tony's top three, because he can't come up with five:
Also, some clarification on things discussed during the episode, since much of what we talked about was on the fly, without any real research, and mistakes happen:
When I was discussing Scud, I mentioned a graphic novel, Solid Gold 3p0. This was actually my brain mixing up two of the graphic novels, Heavy 3P0 (Volume 1) and Solid Gold Bomb (Volume 3). Fact checking is fun!
As Bri was talking about Hopeless Savages, she accidentally mixed up the character names. Instead of Dirk Savage and Nikki Hopeless, it's Dirk Hopeless and Nikki Savage. She acknowledged this in her blog post a few weeks ago, but in case it wasn't read, I didn't want anyone giving her grief. Also, the second volume was not Too Much Hopeless Savages, but Ground Zero. I can only look smart here because I'm putting up the links!
Finally, don't forget that you can find Bri on Twitter, and on her Website! Plus, if you don't want to come to the blog post, and you want this podcast delivered to you through other methods, you can always find me on the Stitcher Radio app on both Android and iOS, plus on iTunes. Please, feel free to use one of those methods that enable you to subscribe to me, rate me, validate me, build me up, tear me down, whatever you want to do!
Thank you all for an awesome week, and I'll see you Monday!
Music used in the episode: