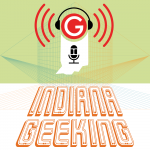 Good day, my friends! Welcome to the blog post that's connected to the podcast episode that supports the blog of Geeking in Indiana! Episode 8 is east bound and down below, and we've got about 24 minutes of myself, Bri, and comic book discussion, with just a touch of bad Arnold Schwarzenegger! So, before we go into anything else, let's go ahead and embed Ye Olde Podbean Player here on my blog, and give this a listen!

Now, as you could tell (if you listened to the episode before reading this. Did you listen? Listen!), this week was just a ton of books being thrown out right and left. I'm not going to list them all this week, because I want you to listen to us tell you why we believe you need to be reading all of these books. However, there are some things I want to shout out from the podcast that you need links to.
Where to find the Mighty Bri!
Where to connect with the Podcast
Oh, and if you were curious, in Galaxy Quest, Tim Allen plays Jason Nesmith who plays Commander Peter Quincy Taggert.
I'll see you all next week! Have a great weekend!
Music this week provided by the fine artists at the Free Music Archive: