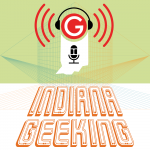 Let's set the WABAC Machine to late February, 2015. I got a new Blue Snowball microphone, and decided to start a podcast. That first year, with the help of Bri, we put out content almost weekly, for a total of 39 episodes. In year two, Bri wanted to devote more time to her own projects, and I tried a few different things with the podcast, but over the course of 2016, less than half that amount were release, with 16 episodes. 2017 and year three brought a format change, showcasing local creators, including a burst of special episodes featuring local game designers in the lead-up to Gen Con. Even with that, we were only able to get about 15 episodes recorded. 2018 was a rough year for year four, as I was dealing with a new job, getting hit by a car, and loss of employment, giving us only six episodes over the course of the year. This past year was year five, and while I tried to do monthly episodes, I only have seven recorded. Today was supposed to be the eighth, but I'm going to level with you.
I'm so, so tired.
For something that was started because it was fun, it's become a chore. Instead of learning new skills, like 3D modeling or video editing, I'm hunched over Audacity. I field endless emails from new local creators asking about being a guest, sometimes even demanding a spot on the show. I'm working with lining up guests, figuring out where to record, outlining the interview, all instead of writing new blog posts and visiting friendly local shops to list on the blog. All in all, what started as something that was cool and fun, has become 90% mind-numbing work, and 10% fun, which happens when I'm actually sitting around the table with the guests. This will be what I miss.
I'll miss sitting with the Shake Ups, talking about their latest album and their favorite cartoons. I'll miss talking to friends about their newest creations. I'll miss sitting with Jarred and TJ, finding out what's happening with Magic: The Gathering. Most importantly, I'm going to miss all the people that I couldn't get around to talking to that I really wanted to talk to for the podcast. Finally, I'm going to miss giving a shout-out to my Patrons, and trying to get all of their names read in a single breath.
Speaking of my Patrons, I want to give them one final shout-out! Every one of these folx have been supporting the blog and podcast, through thick and thin. Some for a few months, some for a few years, but all of them are very dear to me, and I want to make sure they all have good reason to continue to support me, so I'll be talking with them over on Patreon before their next billing comes due, so they can do what they feel is best. No matter what is decided, though, I want to give a huge thanks and all my love to Alessandra, Becca, Beth, Bunny, Caitlin, Claire, Crag, Fusspot, Gabe, Ginger, Heather, Jacob, Joshua, Kayla, Mal, Mark, Neil, Patrick, Perkeo, Rachel, Samantha, and Spencer for their support.
Before I forget, I also want to thank the local bands Five Year Mission and The Shake Ups. They were both kind enough to let me use their music to open and close each episode, starting with year three, and I feel it really helped the episodes sound so much better!
So, what's next?
First things first, I'm paying for one more year of podcast hosting, so the archive isn't going away any time soon. During the next year, I'm going to figure out how to host all of the podcast episodes locally, so I'm not going to have to keep paying over a hundred dollars a year for this. Sure, that'll break everything on Google and iTunes, but at this point? It is what it is.
I'm going to continue to edit You're Gonna Love This… or Not… along with Lizz, and I'm going to continue to help her out with Social Sci-Fi. Neither of those, however, take up as much time as Indiana Geeking does. Plus, I'll still be available to join friends on their podcasts, because honestly, I love to talk about stuff, I've just come to hate everything else I need to do around the talking.
The extra time is going to go towards renewing a focus on some of the core aspects of this blog, as well as learning some new things. More details will come early 2020, unless you're a Patron, where I'll be discussing ideas in the coming weeks.
So, after a run of 83 episodes, I'm signing off the Indiana Geeking Podcast the way I've been doing things for almost ten years.
With a blog post.
Thank you all for listening! I'll see you on the blog, and always remember: Live long and prosper, may the force be with you, and as always, be excellent to each other.
Tony