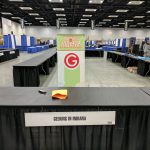 First, let me apologize for there being a lack of Media Monday post today. Grant has been on vacation, then was at Indy PopCon yesterday, and then had to run back to Kokomo for rehearsal and dance practice for the production of Beauty and the Beast that he'll be in next month, and he did that on minimal sleep. Myself, I've been swamped with Indy PopCon, which mean that no, there was no write-up of Spider-Man Homecoming today, because I've been too exhausted to see it.
I'll be doing a better write-up and review later this week, when I'm more rested, but right now, I wanted to say thank you. Thank you to everyone who stopped by the booth over the weekend, sometimes numerous times, to say hi and see how I was doing. Thank you to all of my friends who hung out for dinner after the show floor closed on Friday and Saturday, and helped me unwind after being "on" all day. Thank you to the folks who stopped by the booth to see what the heck I was about. Thank you to the couple of people I didn't recognize or know, that actually purchased something from the booth! Thank you to everyone who donated to EARPS! Thank you all who made Indy PopCon so enjoyable!
Also, thank you to Aric for the fantastic design work. There were so many people who loved the designs of the pins, and the banner, and that's you, buddy. Thank you to Phil and Fineline, who helped me get fidget spinners before the show started! Thank you to Tommy, who got me squared away with a pin vendor! A HUGE thank you to Lizz, who put up with, and supported me through my anxiety, cursing at MS Publisher, and "Let's go, let's go, let's go!" nervous energy before she even had a chance to get caffeine in her system.
Tomorrow will be the normal Tuesday Tidbits, and then I'll get you all something more in-depth on Wednesday and Thursday. In the meantime, I need to dive into work, and I'll see you all later!
Thank you all again,
Tony