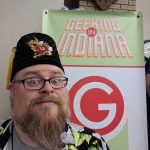 This is it, my friends! This time tomorrow, I'll already be an hour into table set-up at the 2018 Indy PopCon! This will be my second year at the show, and I have a full plate, not only with the table, but with panels, as well! So, as I have a tendency to do every time I have a show I'll be attending (hashtag: Vanity Project!), I've got a rundown of what's going on, where I'll be, and where you can find me!
To be fair, most of the weekend I'll be at my table. While I love looking around for new things, I have too many debts to pay, too many pieces of art work awaiting frames, and just no money to do it all. However, I will have to pick up some new books, as well as some soap, so I will be wandering away for a bit. In addition, I will be doing a few panels, which will pull me away from the table for an hour or so at a time through the weekend. We can plan for these, though, so let's dive in!
First, here's my panel schedule!
Friday, June 8th

11:00 AM (ComicsPriceGuide.com Panel Room – Wabash): Star Trek: Discourse! Did you watch us on Facebook before Star Trek Discovery in late 2017/early 2018? Probably not, but that shouldn't stop you from checking out this panel on Friday, as you're waiting for the hall to open! We'll be discussing season 1, and our hopes and dreams for season 2!
2:00 PM (Podcast Stage): The Nerds You're Looking For Podcast! I was asked to be a guest with The Nerds You're Looking For on their live recording on the podcast stage! Come see them talk to me about Geeking in Indiana, my history as a Geek, and more!
6:30 PM (PopCon KidZone – Main Vendor Hall): Podcasting and Blogging Basics for Kids! Hosted by myself, Rachel Frend (The Five-ish Fangirls), and John Graham (FIGID Press), we're going to talk about getting started with a blog and podcast, basic equipment needed, parental permission, and remembering that when it's out on the internet, it's forever!

Saturday, June 9th

6:00 PM (Small Panel Room 110): Awkward Twitter Mingle! Once you're done learning about projects, stick around for PopCon's traditional "tweet up"! Hosted by yours truly, as well as some friends, we just all get together, put some faces behind the handles, and just… well, be awkward?
Next, here's what's going on with the Geeking in Indiana table!
Location! I'll be at table 1029!
Team Geeking! Not only am I going to be at the table, but Lizz will be there most of the weekend, as well. I'm also hoping we can get Grant to hang out for a bit, as well!
Charity! Once again, this year Geeking in Indiana is raising money for the Exotic Animal Rescue and Pet Sanctuary (EARPS)! We will, once again, be doing the "voting boxes", where you vote with your dollars (or cents), and 100% of that money goes to EARPS! In addition, I have something really cool which will be mentioned below, but first, if you don't know who EARPS is, I strongly suggest you check out their website (LINK)!
Podcasting! No, I mean it this time! Over the weekend, we will have recorders on hand, and we want to hear what you, the Geeks who are here in Indiana, like about being a Geek in Indiana!
Merchandise! Yeah, you knew this was coming. I still have a lot of stuff left over from last PopCon, and I'm working on the price list for those right now, but this year, I also have TWO new pin designs! You'll be able to see them in a minute, but here's the 4-1-1: I was able to work with local artist, enamel pin enthusiast, and all-around awesome person Lee Cherolis with designs for Geek Cat and Geek Dog pins! These pins are hard enamel, about an inch and a half, and have renditions of Reiki the Geek Cat, and Zoey the Geek Dog! These pins are going to be debuting at Indy PopCon for $10 each, and after the show they will be in the Geek Shop and at New Castle Teen Con and Indiana Toy & Comic Expo for $12 each! Out of that price, $2 from every pin will be going to EARPS!  That's right, get pins of adorable animals, and help out EARPS! Finally, all pins will have new backing cards with the new "PiNDIANA GEEKING" branding, thanks to another awesome local artist, designer, and fantastic friend Ginger Dee! Check out all the new stuff below:
Of course, the best part of Indy PopCon is seeing everybody I know, and meeting new people! Please, stop by and see me, introduce yourself, and remember: I have a broken brain and the memory of a goldfish, so if you're getting a blank look, please remind me of who you are! I swear, there are times I haven't recognized my parents when they've walked in to a store where I was working, and I really wish that wasn't a joke! I mean it, my brain is horrible!
See you all tomorrow!
Tony