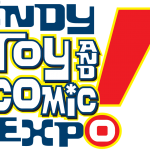 For the last few weeks, I've been posting and tweeting about a local show called the Indy Toy and Comic Expo. It was their first year, and it was ran by locals, for locals, and while it wasn't talking about any "Big Name" guests like actors from "Game of Thrones" or "Walking Dead," it had a lot of love for mid-western vendors, artists, and events. Thanks to all of that, I was more than happy to throw my "weight," as it is, behind their con. What can I say, for better or worse, I like to support local when I can! So, the question is, do I regret it?
I headed with the family on over to the Caribbean Cove Hotel, and arrived right when General Admission was opening. We paid our money, because at $5, it was a bargain, and entered. What we had was a hotel ballroom chock full of toy and comic vendors, along with local artists, conventions, and the 501st/Rebel Legion. Towards the entrance was CosPlay guest Kayce Super, and a table by Coil Con was a display of the door prizes. We hung out for about an hour, then I dropped my wife and daughter off at home, and came back to do my "blogger duty" to check out the costumes, talk with the people, and see the con through completion.
When I got back around 11:30, the show had picked up. CosPlayers were arriving, we had a few Deadpool's with their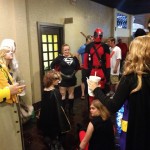 Deadpool-y antics, and a LOT of DC Comics characters. In addition to the Star Wars characters from the 501st Legion and Rebel Legion, they also had Ghostbusters, complete with proton packs and a slime thrower. They had a lot of families looking around, with kids in costumes as well. After looking around for a bit, I started looking around for Billy Cooper, who I had been pulling info from for most of this year, building up to the con.
I don't really do interviews, but I did have a chance to just shoot the bull with Billy, did a lot of "off the record" talking that, true to my word, will remain off the record, but it gave me a good feeling for the man, who I hope to run into sometime when he's not as busy. Over the course of the conversation, though, we talked about how awesome the attendance was, discussed space issues, and the build up to the con.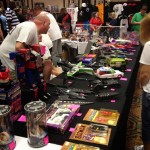 Space issues was one major contention. It turns out that they had the space planned down to the inch, based on dimensions the host hotel gave them. It turns out the host hotel was mistaken, so everything was tighter than they had planned. This caused congestion in the aisles, and the room was very warm. The hallway outside was a favored hangout, especially with the CosPlayers. However, if the only complaint was that it was too crowded, that isn't really a complaint, and it's something they are very aware of for the next one. All in all, I know the folks in charge were very happy with the attendance, and the reception in general.
Myself, I really enjoyed it. I met some awesome costumers, some great geeks, and some of the folks who I've written about and talked to online, but haven't ever seen in the real world. While going to a toy and comic show is rough when you're broke, we still were able to pick the Geekling up a cute Yoshi figure, and I won a comic book and a "Star Trek Into Darkness" movie poster, as well. I hope they announce their 2014 show soon, so I can get it on the calendar, and I'm more than happy to say it's a good show.
If you'd like to see the photos I took, visit the web album here. If you see yourself in a photo, feel free to tag yourself.
Til next time,
Tony