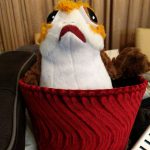 It's been years since I took a vacation. I'll go to conventions, I'll visit California, and sometimes I'll do weekend road trips, but most of the time, those are "working" trips, where I'm doing something for this blog, or I'm spending family time with the Geekling. It's been a long time since I've actually had time away. Well, starting on the 16th (TODAY!), this is changing, and it means I'm going to be completely unplugged, starting in just a few days.
Oh, and before we continue, yes, we have someone sticking around the Geek Cave to keep an eye on the place, and take care of the doggo, the cats, and the rats, so you don't have to worry about them.
So, as this post goes live, we will be in the air, heading towards Southern California. We'll be spending tonight and tomorrow with the Geekling, before picking up our roomies from the airport and heading down to San Diego on Sunday morning, where we board a boat. Ship. Whatever. Then, I'll be in the land of seventy five cents a minute for wifi, so I won't be online that much. Minimal social media. Very few selfies. The full nine yards. Instead, I'll be meeting people, reading books, doing some writing on paper (instead of computer), listening to great live music from the bands on the cruise, and basically just unplugging and recharging.
However, I swear, this post is not meant to brag. Instead, I want to throw a few things out there!
First, Grant and I worked our butts off to get content up and scheduled for the next week and a half. If everything works right, there will be new Media Monday posts, Tuesday Tidbits posts, and a "Things to Do" post up at 9 AM on Monday, Tuesday, Thursday, Monday, and Tuesday! So, if you could all be awesome, and retweet, share, and get those posts out there, it would be awesome!
Next, in the off chance you order something from the Geeking shop (pins, spinners, etc), know that those orders won't be seen until the evening of Tuesday, February 27th at the earliest! If you order from the My Merch shop, those will go through as normal. If you happen to do a donation via Ko-fi, PayPal, or Patreon, then the thanks won't be out until the evening of Tuesday, February 27th, either. However, please don't let this discourage you from doing any of these things! #FeedABlogger
Finally, if you follow me on social media, don't panic if I'm silent. Like I said: unplugging.
So folks, play nice, and I'll see you all when I get back!
Be excellent to each other!
Tony