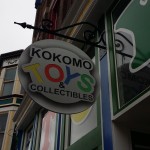 A while ago, I was followed on social media by a toy store out of Kokomo, fittingly called Kokomo Toys. Judging by their pictures, they were a large shop, with a good selection, so I was psyched about eventually checking them out for the blog, as well as for the fact that I love a good toy store. So, when my little brother (Little? He's 35.) wanted to head up to Kokomo for the convention, I asked him if he wanted to also check out this store. Since he's also been curious about it, he agreed, and after walking around KokomoCon, and grabbing lunch, we headed to beautiful downtown Kokomo to check them out.
As Saturday was a fairly dreary day, it was quite easy to find parking on the courthouse square (free on weekends!) and walk around the corner to the shop. Stepping in from the drizzle, we were greeted by rows of toys. New toys, old toys, lunch boxes, tv trays… things we grew up with, and things our children play with, all packaged in a cool shop in downtown Kokomo!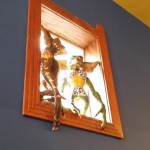 Most of the major toy lines are grouped together, like GI Joe, Transformers, Star Wars, Funko Pop figures, and He Man. Open figures and vehicles are bagged up nice and neat, and marked with very fair prices. Various pieces were set up around the store, like a Cobra soldier costume next to a GI Joe arcade machine at the front of the store, or a pair of Gremlins chilling in a window high above the floor, which really helped add to the groovy vibe this place had. Did I also mention the fair prices? My little brother is more into the "old toys" scene than I am, as he's trying to pick up stuff for his sons to play with, and he was surprised at how fairly priced everything was. Personally, I don't have much disposable income, but I made sure to pick up a blind box toy for my Geekling, as well as one for myself (I got a glow-in-the-dark Tron! Sweet!).
Folks, I'm going to be honest: If you have the ability to hit Kokomo, head up there, even if it's just to stop here. This is an awesome store, filled with nostalgia at a good price. I know I'm planning on making trips back up, as I get a little extra scratch, to pick up some items to decorate the Geek Cave 3.0 with, and of course get some cool stuff for the Geekling that you just can't find at Toys R Us.
If you are a toy collector, a child of the 80's & 90's, or just like cool things, head to Kokomo to check them out.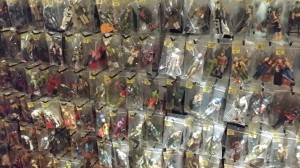 Here's what you need to know:
Who are they? Kokomo Toys & Collectibles
Where are they? 111 E. Sycamore St. Kokomo, IN 46901
What are their hours? Monday through Saturday, 11:00 AM – 5:00 PM, Closed Sunday
What is their phone number, if I get lost? 765-868-8151
Check them out!
Tony