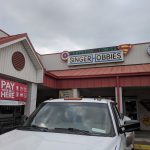 To be honest, Martinsville, for me, is the Wendy's I stop at when I'm driving down to Bloomington. I don't have anyone there I hang out with, I have no family there, so for me, it's a stop on the way to see friends. However, a few years ago, I caught something about either comic books, or Magic cards, as I was heading to Bloomington, so as we were prepping for the Indiana Toy and Comic Expo, I did a quick search for shops in the area. And it turns out, there's a two-for-one right there off 37 and Burton Lane! It's Singer Hobbies and Krypton Comics!
Krypton Comics shares store space with Singer Hobbies, taking the back of the store while the hobby shop takes the front. Singer has model kits and everything to build them, games, paintball markers (including some very real looking pieces) and remote controlled cars. For those who are into it, they have some very nice RC cars, at least it sounded like it as I talked to the gentleman behind the counter. Towards the back, where the paint changes to green, that's where Krypton Comics starts. They have a small selection of back issues, a selection of graphic novels, current release books, toys, and gaming supplies. There's plenty of room for gaming, and they have a large Lego Batman, too. Finally, they have a small section of the store with remaining stock from the old Radio Shack that used to occupy the location!
I will admit that this was one of the more unique shops I've been in. I see a lot of cross-over between comic shops and game shops, and I sometimes see models, like the Batmobile or Gundam kits, at comic shops, but I have never really seen a "one stop" solution for a community before. Comics, games, hobby supplies, pretty much my three major categories, all wrapped into one location. While they don't have a ton of any one particular thing, they are more than happy to order for people coming in, and they do consider themselves very full service. In addition, they participate in local parades with cosplayers, and they have their own mini-con for Free Comic Book Day, to help engage the Geeks in the community.
So, the next time you're heading down 37 to Bloomington, go ahead and head over! It's tucked in a corner of the strip mall, so keep your eyes open! To get an idea of what you'll find, take a look at the gallery under the shop info. Please note: These pictures were taken in August of 2018. Stock and prices may vary.
Who are they? Singer Hobbies and Krypton Comics
Where are they? 2072 Burton Lane Martainsville, IN 46151
What are they? A Friendly Local Hobby and Comic Book Shop
What is their parking situation? There is lot parking in the strip mall.
When are they open? Monday through Thursday, 10:00 AM to 9:00 PM, Friday 10:00 AM to 11:00 PM, Saturday 10:00 AM to 10:00 PM, Sunday Closed
What is their phone number, in case I get lost and need directions? 765.318.6904
Just kidding on the phone number. Internet! Where are they online? You can see what's happening on the Krypton Comics Facebook, the Singer Hobbies Facebook. the Krypton Comics Website, and the Singer Hobbies Website.