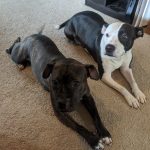 Hey there, friends.
When this publishes on Thursday, May 14th, it will be the sixtieth day I've spent on the Geek Cave property, without leaving. Thankfully, due to my job already being remote, and the addition of grocery delivery (we got a Shipt membership back when we were hit by that car, and never cancelled it),  it means I haven't had to go anywhere so I've been able to fully embrace this whole "social distancing and shelter in place" thing. Sadly, since nothing has really changed, which means I don't have the extra time a lot of people have had to bake bread, learn a new instrument (I still can't play the accordion, but we'll touch on that farther down), or any of those other "fun" quarantine activities people are partaking in. However, since I know I've been very light with the content since everything started, I wanted to get something out to everyone, so they knew what was going on over here on Indy's East Side.
First off, in blog projects, we have Geeking@Home Con, which is still here, trying to help those who are struggling with the cancellation of all the conventions due to lock-downs. Lately, there have been bigger and flashier online conventions out there, but this little one is mine, and I'm doing the best I can with it. Please, feel free to drop in and help those vendors who are hurting due to the COVID con crunch.
Also, in an attempt to try to be social and talk to friends, I've started Twitch Streaming on Tuesday and Thursday evenings. My idea for this isn't to become a Twitch Affiliate or Partner or anything like that. Not everything Geeking has to be a "job" and a source of income. Instead, it's a way for me to set aside a couple hours a week to relax, play games, and chat with friends. Is it slick and professional? Of course it isn't. That's not why I'm doing it. So, if you're free on a Tuesday or a Thursday, drop in, say hi!
The Geek Building thing is kind of at a stand-still at the moment, thanks to continuing problems with the Ender 3 Pro. Log story short, I've almost completely disassembled and reassembled the machine, replaced many of the parts that can wear out, and I'm still having issues. I'm still plugging away at it, though, and while it means I haven't actually made anything over the past few months, it does mean I've been learning more about the machine. This is good, because in the next few months, I'll be getting some new machines in (thank you, stimulus check) and I'm going to need that knowledge to set them up properly on the first try.
With the inclusion of two new machines, we're also working on reworking our office, where they're going to be running. We already had the office set up to accommodate both of our desks and room for the pups (pictured above, because I know you've been missing them!), so now we're plotting out the addition of two new tables to hold the machines and everything that goes with them. It's been fun to figure out, and it's making me desperately try to remember things I should have learned in Industrial Arts class, back in 7th grade.
Let's not think about how long ago that was, okay?
Other than that, things have been pretty normal, or at least as normal as they can be. I have been cooking a bit more, since it costs more to eat out (ya gotta tip them damn well these days! Seriously! TIP YOUR DAMN DRIVERS!!!). I've done a bit of experimenting in the kitchen (see the cheesecake recently posted on the Geeking Instagram account), though not too much because ingredients have been hard to come by sometimes. Sadly, the therapy being done on my ribs was put on hold as a "non-essential" medical procedure, so I still can't strap on the accordion and practice until that pain goes away. I've been doing a lot of thinking and planning, with things getting closer to fruition day by day.
Here on the blog, I'm still holding off on Tuesday Tidbits and shop review posts, even with the ill-conceived plans to "reopen the economy" currently happening. Instead, I'm going to keep streaming, keep fiddling with the printer, and keep building. I've got stuff to work on, I've got stuff coming in, and I'm hoping to get some gift cards for more stuff at the end of the month for by birthday. Which, by the way, is on the 23rd, you know, if you're feeling generous and have a few extra bucks lying around. Trust me, I could always use a Raktajino or two.
Anyway, how are you all holding up? Have you learned anything new? Or are you considered essential and still working, so you don't have much free time, either? No matter what you're doing, I hope you're all staying safe, healthy, and home as much as you can!
Be excellent to each other, my friends.
Tony