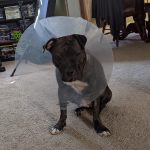 My friends, we have entered the spooky season. Not only does October bring in Halloween, and ghost tours, and cheap bags of candy, it also brings in the last quarter of the year. With 2020, I think many of us are thanking whatever deities we worship, or just thanking our lucky stars. For me, though, this marks the last three months of what has turned out to be a very lackluster 10th anniversary of Geeking in Indiana.
This thought has been keeping me up late the last few nights. Well, this thought, and drinking caffeine after 3 PM (getting old sucks), but anyway (This might wander a bit. Sorry not sorry).
Where am I going the next few months? I'm just now starting to get back into the swing of things, but can I keep it going, and maybe even get back to writing more than just two posts a week? Well, for October, it'll be kind of difficult. I'm going to be "out of the office" from the 10th to the 17th, on a family trip to Tennessee that I'm just treating as a change of walls and a chance to recharge a bit. I'll be bringing my laptop with me to get some paying work done, but I'm going to try to stay offline as much as possible during that time. If you're seeing anything, it'll probably be scheduled content, written from my room, posted, and then forgotten about as I drink coffee and read books on the balcony. Then, once we return, it's a week until VoltCon, which I do want to talk about for a minute.
I know a lot of you are thinking, "Tony, you said you're swearing off conventions this year. Why are you not only going to VoltCon, but also tabling and making stuff for this show?" Believe me, I completely understand. The thing is, VoltCon is ran by some very good friends of mine, friends that were part of the very small circle of people that knew about Lizz and my "surprise wedding" a few years ago. I know they can't cancel the show, so they're doing what they can to make it as safe as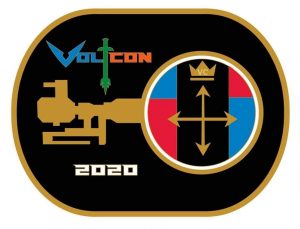 possible. Plus, it's a show that doesn't bring in the number of people that Indy PopCon or Gen Con brings in, nor does it try to be one of those shows, and the people who attend this show are the type that, if they've been exposed or are worried, won't attend. I know this isn't a guarantee, but I'm going to be behind my table, wearing a mask, not shaking hands, and just generally being as personable as I can be while also exuding a "DON'T TOUCH ME OR BREATHE ON ME OR EVEN MAKE DIRECT EYE CONTACT WITH ME" vibe. Then, after travelling to Tennessee and then going to a convention, I'm going to hide at home until 2021.
Running down the couple of other things happening in October really quick, I'm still frantically 3D Printing, gluing, smearing body filler, and sanding pieces that are specifically for VoltCon. These pieces have been shown to Patrons as part of their exclusive sneak peeks, but they won't have a blog post until after the show. On the podcast front, You're Gonna Love This… Or Not… would normally be airing on the 16th, but Matt is trying to get a crew together for a special Halloween episode, which as per usual, I have no idea what they're doing. Because of this, they're delaying this month's episode until Friday, October 30th, the day before Halloween. So, to the eighteen of you who look forward to this every month, don't despair when it doesn't show up on your feeds! It's coming! Concerning our other podcast that's been on hiatus, I know Lizz is missing doing Social Sci-Fi, but she's helping out with the aforementioned VoltCon, so she won't be starting that back up until November at the earliest, 2021 at the latest. Finally, if anyone is interested, I'll be doing an Extra LIfe stream with my co-workers on Thursday, October 22nd, at 8 PM Eastern. The team is The Andromeda Initiative, we stream over on Twitch, and you can find my Extra Life page here. So far, I've raised $421 of my $1,000 goal, which I admittedly set before the world was set on fire. However, if you can afford to give, I'd appreciate you tossing a coin or two to the kids at Riley Children's Hospital, which is our preferred Children's Miracle Network Hospital.
After the final week of October has passed, I'm jumping into some new projects in November. First off, on Sunday, October 25th, I'm going to put a poll up for my Patrons to choose what my next 3D Printing project will be. It'll be a list of four different movie props that I've been wanting to build, that they will get first look at. From the printing process, to the assembly, to the final piece, they'll see what I'm doing, how I'm doing it, and how I screw it up and have to start some things over. This is something I'm going to be doing for all of them, moving forward. Vote on a project, watch me build it, ask me questions or laugh with me about my mistakes on our Discord channel, and then, when it's complete, I'll put up the condensed version of the build up on the blog. All of this is just a dollar a month (or more, if you'd like, but I just have the $1 level) over at the Geeking in Indiana Patreon Page. I'm not planning on leaving everyone else out, though!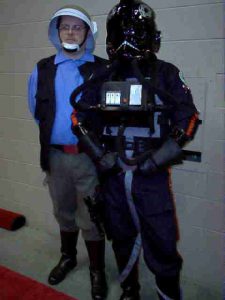 I've still got stuff that I've started that I need to complete. Right off the top of my head? I've got to wrap up my Resistance Pilot costume from Star Wars: The Last Jedi by cleaning up and re-weathering my helmet, building and painting my blaster pistol, and either building or buying a holster for it. Then, I've got my Rebel Fleet Trooper costume from Star Wars: A New Hope that I'm rebuilding since my original was usable, but no longer accurate. My old helmet and boots needs some work, but they'll be usable. I've got a shirt and vest on order from Phil with Spacey-Wacey Wear (remember this podcast episode?), a Nerf Rebel Fleet Trooper blaster pistol that I've started sanding and filling, that I also need to 3D Print a piece for the back of before I mask and paint it, and then I need to find some pants and a holster. Finally, I've also started remaking my original Star Wars costume, the X-Wing Pilot. However, I'm going a step further with it, and also doing the Snowspeeder pilot gear from Star Wars: The Empire Strikes Back. The aforementioned Phil was kind enough to grab one of the Snowspeeder pilot jackets from Star Wars Galaxy's Edge at Disney World before the pandemic started, and there's just a few things like the boots and the glove that I need to buy two different types of. However, I'll give you more information on that as I get started building it, because I've kinda let my words run away from me here, and I hate editing.
2020 is hopefully going to end with some cool projects, all of us staying safe and healthy, and with politicians voted in who are willing to denounce white supremacy.
Let's see how well I can write about it.
I'll see you all next week, where I swear I'll write about something other than things to look forward to.
Tony
PS, here are the photos used:
BB-8, the Geek Pup, got spayed on Monday, and she is not liking the cone of shame.
The logo graphic for VoltCon 2020.
Myself in my original Rebel Fleet Trooper costume, with a TIE Pilot, taken at Gen Con 2005.