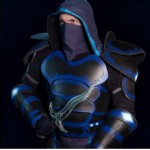 You've had the idea for a costume since last Gen Con. However, you kept telling yourself, "I've got time. I'll play more Dragon Age!" or "I could be working on this tonight, but I have a new deck idea, and I really want to hit Friday Night Magic to try it out…" for eleven months. Now, the convention is only a few weeks away, and you haven't even started on your hall costume! Panic sets in, but luckily there is a bright light at the end of this tunnel!
Bill Doran, author of the Foamsmith Trilogy, which I've written about before, understands that problem. Heck, anyone who's done a costume has had that last minute scramble when they realize they procrastinated just a bit too long on that piece. He has taken his experience, and the knowledge he's accumulated, and put together the 30 page eBook, Foam Armor, Fast.
Foam Armor, Fast ($2.00, color PDF) tells you what to expect out of a quick costume, where to cut corners, and how to still make it look awesome. When you add this supplement to the rest of his Foamsmith books, you can make something amazing in a short amount of time. This gives you information on how to effectively sacrifice exquisite detail for overall quality, how to quickly put together patterns, and how to seal and paint where it doesn't take a week for everything to seal and cure, because that week is just too long. He also touches on the undersuits, sewing, and footwear. Pretty much everything in here tells you how to effectively use your time, where the hang ups are going to be, and what you can get away with so you have a usable costume for a show that doesn't look store bought.
If you're into this aspect of costuming/cosplay, this is an excellent read, and gives you a lot of good information. Bill Doran does an outstanding job of laying it all out on the table, telling you what to expect, and setting reasonable expectations. Even if you're not in a hurry, this is good information, and for two bucks, a great deal. I do recommend it!
Happy Geeking!
Tony