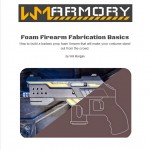 Lately, I've been reading a lot about working with EVA Foam for costume making, even going so far as reviewing some of the eBooks on costume and armor making, and how to do it fast, in the past. However, while having some really nice armor is excellent for a show, what happens when the armor is done? What character from a game or movie do you know that walks around in an awesome costume, but does not carry anything in their hands? Where would Shepard be without an M8, or the Brotherhood of Steel without their AER9 Laser Rifles. When you're showing off your hard work at a convention, you want to have the full nine yards happening, and you want to make sure your costume is completely on point. However, just like with the costume, you don't have the money or the materials to work on a gun made out of resin, or metal. However, you know what you still might have? That's right, foam.
After buying the Foamsmithing books, I saw the author recommend a book by Will Morgan, from WM Armory, called Foam Firearm Fabrication Basics. This 35 page eBook brings you through, step by step, on how to make your own gun out of EVA foam, wood, and plastic. It lists materials you need, tools that will make your life easier, and processes to go through to make foam sheets go from patterns to a finished firearm that will make the weapons checkers at your con do a double take.
Some of the tips in the book are really helping me visualize how I'm going to build some pieces for my Battlestar Galactica costume, my Vault Dweller costume, and my N7 armor. The tips on how to visualize layers, in particular, are really helping me out as I work out how to take some of these flat, two dimensional drawings from the internet, and attempt to turn them into three dimensional props that look like they're supposed to.
If you're looking to step away from garage kits, and painting Nerf guns, and are looking to try to bring your game to the next level, this book is going to be right up your alley. You can find it at the WM Armory Shop Page, here. It's a PDF, and if you don't have an account, make sure you immediately download it when you buy it, AKA follow the instructions on the shop page! It is a great reference, and I'm excited to use it to turn foam into awesome pieces of fake weaponry!
Stay creative,
Tony