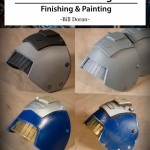 ** I have an awful lot of people finding this post by looking for free PDF's of these books. Piracy is bad. Support small creators. Just pay for the damn books. **
UPDATE 5/20/2019 – This blog post was originally published on 10/9/2014, and since then, some things have changed (props to "Ant" in the comments for the heads up!). First, the website has changed, and that link has been updated. However, it looks like the two books, along with the "upcoming" third one mentioned, have been merged into one book, so those links have been removed, along with the pricing information. You can find all of Punished Props current books on their Shop Page (link). I still strongly recommend anything they have to offer, as I've purchased other materials from them since then, as well as subscribe to their YouTube channel and their Facebook group. Happy building!
Over the past few years, costume and prop building has expanded beyond simply using plastics, resins, fiberglass, and cloth. As the concept of walking around in "silly costumes" has become more accepted and popular, budget-minded cosplayers have been finding ways to replicate their gear using methods that don't involve messy, toxic chemicals, and use materials that are easier to come by. I've seen beautiful pieces made using the "pepakura" method, which involves folding paper, instead of sculpting, to make the base for your pieces. I've also seen outstanding costumes made out of foam: foam floor mats and craft foam that's been sealed and painted to look like armor. One of these "foamsmiths" is named Bill Doran, and he has a series of eBooks telling you how to do it.
Bill runs Punished Props,  and one of the things he makes very well is foam armor. Specifically, at least in my eyes, he makes awesome N7 armor from the "Mass Effect" games. As some of you might be aware, this is one of my coveted costume pieces.  This means that, when I saw some of the costume folks I follow on Twitter mentioning that his new eBook, "Foam Armorsmithing Vol: 2, Finishing & Painting" had just been released, I popped over to his shop page to take a look. I figured that, for $5 dollars a book, it would be worth picking up both Volume 1 and Volume 2.
"Foam Armorsmithiing Vol: 1 Design, Templating, & Fabrication" tells you what you need to know, and buy, to get started crafting armor. He tells you about the different kinds of foam you can use, adhesives that work best, and how best to cut it. He tells you about creating templates, how to shape it, and how to put it together. Since finishing work is important, he also tells you how to create details by either adding foam, or carving it out. He explains how to use texture to make your foam look like leather, wood, or metal, and even how to add stitching and battle damage. He gives you the rundown, literally from head to toe, on how to create your masterpiece.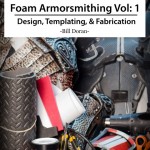 "Foam Armorsmithing Vol: 2 Finishing and Painting" builds off what you learned in Volume 1. This book tells you how to take what you created using the skills you learned in Volume 1, and explains how to make it look like, well, what you intend it to look like. First, he explains the various methods of sealing the foam, because if you don't, it's either going to soak your paint up like a sponge, or dissolve when you hit it with your rattle can. After you've sealed it, Bill explains the different types of paint you can use, as well as their pros and cons. Finally, he tells you what you can use to make that armor look used, either by making it dirty, making it look worn, even how to make it look splattered in blood!
The final book, to be released in "a couple months", according to Bill on Twitter, will be covering Undersuits, Strapping, & Lights, because you want your armor to be looking AWESOME as you're walking the convention floor, and you want it staying on, as well!
I purchased these books last week, and I want to tell you I'm in love. These books have filled in some of the gaps and questions I've had, and are full of pictures and instructions on how to get everything right. Now, I'm not expecting to take this information and be able to rock it on the first try, but it is making me confident enough to be able to start putting together some of the foam I have stashed behind my couch.
If you've been curious about using foam as a means of creating costumes, I do strongly recommend picking these eBooks up. The price is outstanding for the information you are getting. So visit the links in the post above, and check it out.
See you tomorrow,
Tony
Disclaimer: Unlike other posts, this one does not contain a single affiliate link. I purchased these eBooks last week, and I thought they would be perfect for a portion of my readership, so I wanted to tell everyone about them. Please, if this interests you, purchased through the creator. These are PDF files, but please don't download and then pass them out. Help support fellow fans and costumers!