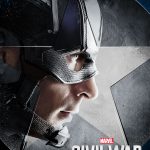 In 2008, we were brought Iron Man by Jon Favreau, Paramount, and Marvel. Since that time, we have seen Marvel and, starting in 2009, Disney, working on building a shared universe for its characters. A universe without such Marvel heavy-hitters like the X-Men, the Fantastic Four, or Spider-Man, and you know what? It has worked wonderfully. They have built this universe through films such as The Incredible Hulk, Iron Man 2,  Thor, Captain America: The First Avenger, The Avengers, Iron Man 3, Thor: The Dark World, Captain America: The Winter Soldier, Guardians of the Galaxy, Avengers: Age of Ultron, and Ant Man, along with television series' such as Agents of SHIELD, Peggy Carter: Agent of SHIELD, and their Netflix series' like Daredevil and Jessica Jones. The movies, however, seem to be getting bigger and bigger, with bigger enemies and bigger battles. While this is great for the audience, what does it mean to the people who reside in the MCU?
Captain America: Civil War is built on this premise. Bringing back the same writing and directing team that did the excellent Winter Soldier, Civil War takes a look at a world where people are starting to wonder whether the Avengers are doing more harm than good. Through the film, sides are taken, lines are drawn, and truths come to light. Here's a trailer to tell you what to expect, as I'm always concerned about revealing too much, or accidentally spoiling something like this stupid Lego set I saw in the aisle at Target.
Pretty spiffy, huh? It's hero vs. hero, friend vs. fri…. HOLY SCOOBY SNACKS, WAS THAT SPIDER-MAN?!?!?
Yes, Captain America: Civil War has it. It has team mate battling team mate battling… a fifteen year old kid from Queens? Yeah, #TeamIronMan folks. How do you feel about your hero dragging a kid into super powered fisticuffs? What a way to bring ole' Webhead into the MCU, eh? Either way, it's a dang good film. For a film that had a super hero cast including Iron Man, War Machine, Vision, Scarlet Witch, Ant Man, Captain America, Falcon, Hawkeye, Black Widow, and Bucky/Winter Soldier, as well as introducing Spider-Man and the Black Panther, it handled everyone almost better than Avengers: Age of Ultron. It was a well written film, with excellent use of action, suspense, and comedy. It handles everyone's story well, and while I will probably find some holes in the plot after watching it a few more times (I'm lousy at catching that stuff the first time, I'm too busy, you know, enjoying the film), I thought it was good and entertaining.
I caught this on Saturday night, after a rough Free Comic Book Day (more on this, later in the week). I brought Lizz and her youngest daughter to the AMC in Muncie, and it was a packed house. It was a great crowd, though, with minimal talking and just the sound of a bag of Skittles hitting the ground towards the end. At least, I hope it was Skittles, and not their far-superior candy brethren, M&M's. Both of them really enjoyed it, especially after watching Winter Soldier the night before. I really agree. I hate to jump on a bandwagon, but this is almost a better Avengers film than Age of Ultron. It was well balanced, told a good story, and it had a good cross-section of characters from all of the Earth-based films, including touching on the absence of Thor and Banner/Hulk. It was wrapped up in a way where I am very anxious to see how the next film in the MCU plays out, as well!
Captain America: Civil War is currently in theaters, and is rated PG-13 for extended sequences of violence, action, and mayhem. The run time is 147 minutes, not including trailers, and there are two credits scenes: One mid-credits and one post-credits, so make sure you stay for both! The Head Geek really recommends checking this film out, if you haven't already!
Next week, Grant will be back with more Media Monday, and I'll see you all again with my thoughts on X-Men Apocalypse!
Tony