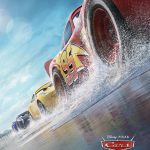 Do you remember a simpler day, a day when Pixar films were original features, and not sequels? When they were made to pull at the heartstrings, as well as tell a good story, and not just sell merchandise? Well, Pepperidge Farms Geeking in Indiana remembers. However, as the years have gone on, not even Pixar (especially now that they are owned by, and not just distributed by, Disney), is able to resist the siren call of revisiting a franchise. With the exception of Toy Story 2 (which, if I remember, was supposed to be one of Disney's "direct to video" sequels until they saw it), they had nine original films until they went back to the Toy Story series with Toy Story 3, which was honestly the best of the series. However, their next film, another sequel, was not as well done.
In 2006, Pixar put Cars on the big screen. This tale of a race car trapped in a small town off historic Route 66 wasn't the most emotional film, nor did I particularly enjoy all of the characters, but it had its charm. A large part of that charm might have been my love of road trips, and my trips to and from Southern California along the aforementioned Route 66, and the interstate that replaced it. However, the 2011 sequel, Cars 2, was nothing more than a full-length Mater's Tall Tales movie, that even made the Geekling bored. Plus, I'm sorry, but Mater is just the worst. When I heard they were doing a third film, I brushed it off, until the trailers started. It's focusing on Lightning again? It has to do with getting old, and getting passed by those who are younger? If this is what it looks like, then this really speaks to me. So, I went ahead and cashed in some AMC Rewards money to catch it early Sunday morning at the AMC down near Greenwood.
It did not disappoint. Much.
First, here's the movie in a nutshell: Cars 3 starts with Lightning McQueen at the top of his game, sharing in good-natured rivalries with other racers of his caliber, and generally loving life. Then, as he's battling for first place, a the group he's battling with get dusted by one of the new kids on the track. These rookies are built for racing, and one by one, the older racers either retire or are replaced by their sponsors. Lightning pushes himself to the point where he has an accident (not a spoiler, it was in the bloody teaser trailer!) and has to get himself back into racing shape. However, can he also admit to himself that maybe, just maybe, he can't keep racing the way he has been?
Cars 3 goes back to what made the first film, at least in my eyes, good. It touches on self-reflection, it looked at what it's like to be getting older, and it looks at the feeling of getting obsolete. Also, it acts like Cars 2 never happened, which was 100% okay with me. It is not without its faults, as it falls back on the "Lightning McQueen acting like a jerk" trope once again, and the emotional moments just don't have the same punch as the beginning of Up, or pretty much the entirety of Toy Story 3. However, these are rather petty nitpicks, from someone who isn't a movie reviewer, just someone who likes to talk about movies he likes. Seriously, the story was fun, the visuals were gorgeous, and the time flew by when I was watching it. Cars 3 was definitely a movie I liked, and will be picking up when it comes out on blu ray.
Cars 3 was released in theaters of June 16th, has a run time of 1 hour and 49 minutes, and is rated G. It really is what you kinda hoped Cars 2 would be, just one film later. If you enjoyed Cars, or racing, you really should check it out.
See you tomorrow!
Tony