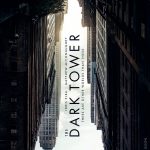 Back in middle school, in the late eighties, I was on a big Stephen King kick. It was during this time where I read The Gunslinger and The Drawing of the Three, along with books like Christine, Eye of the Dragon, and It. They were okay, I guess? I really couldn't tell you, because it's been over twenty five years since I read them, and I haven't read any of the other books, or the comic books, or anything of the sort.
Fast forward to a few months ago, and my friends at the Obsessive Viewer podcast (link), who are huge fans of the book series, just won't be quiet about the upcoming film. They have done a break-down of the trailer, they are being cautiously optimistic about the movie, and they are really getting psyched over it. Their enthusiasm was so infectious, that I started to get interested. However, I didn't read any of the books, or look into any of the preview material, because I wanted to go in cold. I wanted to know nothing about it.
So, as the premier date approached, I reached out to Matt, jokingly asked when the Facebook event for a group viewing was going to go up. Lo and behold, after some discussion, an event was set up this past Saturday, which had only myself and Matt in attendance. Still, the show must go on, so I got some popcorn, and settled in to hopefully enjoy a movie that, to my understanding, is based on a book series with a deep story line, great characterization, and ties to other books in King's library.
Instead, we got an average low-budget summer action flick.
First, since I really am not sure how to give this film a run down, or if that would be a spoiler (for all those who wonder how it compares to the book), I'm going to give you the trailer, so you know what I'm talking about. Hashtag cheap cop out.
Now, going into this blind, I had no idea what to expect. As I said above, what I got was an average, low-budget, summer popcorn action movie. The plot was simple: stop the Man in Black. The thing is, I didn't think it sucked. Was it one of the best films I've seen this year? Not by a long shot. However, is it worse than a lot of films I've written about for the blog? Heck, no. As to be expected, Idris Elba (as Roland) was solid, and a pleasure to watch on screen. Surprisingly, at least for me, Tom Taylor (as Jake) was the other stand out in this film, and watching those two together was one of the high points of the film. Matthew McConaughey wasn't bad, but he was just a little too over the top for my tastes.
Now, not everything was bad. As I said, watching Elba and Taylor together was enjoyable. Many of the mid-world set pieces were cool, especially the parts of the world that have "been forgotten". The village where Roland and Jake sought the Seer looked good, as well. About 90% of the action sequences were amazing, as shown on the trailers, including the one at the very end of the film, with one exception.
There is a scene, towards the end, where the Man in Black throws Roland up against a support column. I'm sorry, that was some of the worst CG I've seen in a recent film, and I believe I told Matt it used a Goat Simulator-level rag doll physics engine. It just looked awkward and horrible. In addition, to answer one of the huge questions about this, "How can they make sense of the source material for a movie?", they are showing that they can't. At least, this studio can't. Matt blames studio interference, and I don't know what to think. I just know it has no deep mythology, the line that King is so proud of ("The ban in black fled across the desert and the gunslinger followed."), doesn't appear until fifteen to twenty minutes into the film, and then to close out a flashback.
As much as I don't want Media Monday to be a prequel to another site's content, I strongly recommend you follow the Obsessive Viewer Podcast and Twitter feed (link). Matt, Tiny, and I are going to be recording an episode in the next few days, touching more deeply on their thoughts as life-long fans, and my thoughts as your average film goer.
The Dark Tower has a run time of 95 minutes, and is rated PG-13 for thematic material including sequences of gun violence and action. If you have never read the book series, it's not bad, and it's not part of my life that I want back, and I don't regret spending "Dolby Atmos Theater" level pricing to see it. However, if you're a huge fan of the book series, you might want to keep in mind that the existence of the movie does not take away the existence of the books you've loved for years.
See you tomorrow,
Tony