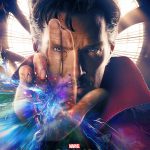 As I mentioned last week, I'm an unabashed Marvel Cinematic Universe fanboy. Before I sat down and watched Doctor Strange, I had seen thirteen fun films starring comic book characters I enjoyed, some that I didn't enjoy, and some that I had absolutely no idea if I was going to enjoy them or not. Sure, they haven't all been solid gold, but they've been fun, and I've watched them all on more than one occasion. Now, this past week, the fourteenth film in this MCU came out, Doctor Strange, and after a busy weekend, I finally had the opportunity to sit and watch it this past Sunday. So, did it hold up? How did it work for me?
Doctor Strange is the story of Doctor Stephen Strange, an extremely talented surgeon that makes sure everyone knows exactly how talented he is. His life comes crashing down, however, when he is in an accident that costs him the use of his hands. His desperation to regain use leads him to Kathmandu, where he learns he can be so much more. You know, in my tradition of trying to remain spoiler-free, here's the trailer, courtesy of the Marvel YouTube channel:
First off, I know some people are complaining about there being yet ANOTHER origin story. Hey, guess what? While Doctor Strange has some very devoted fans (check out my friend Christy Blanch's tattoo!), this is a movie like Guardians of the Galaxy, that your average fan might not be very familiar with. I can tell you, the extent of my knowledge came from a coffee table book of super-hero origin stories I used to read when I would visit my grandparents when I was a kid. Past there, I would know OF him from brief flashes in other Marvel comics I read as a kit, but I haven't read many of those in the past 25 years. So, calm down with your moaning and griping, because not only is this needed, but it's really well done.
Like any Marvel movie, Doctor Strange combines witty snarkiness with somber seriousness, and finds a balance with both. I'm not a Benedict Cumberbatch fan, by any stretch of the imagination, but I really enjoyed him in this role. His role was played a bit too much like a mystical Tony Stark for me, but that's a very minor gripe. Otherwise, the acting across the board, from not just him, but Rachel McAdams, Chiwetel Ejiofor, Tilda Swinton, and Benedict Wong, who was just a gift in this film. Mads Mikkelsen was serviceable as the villain, but suffered the same way most of the other MCU villains have, with a real lack of character or ability to do much more than chew scenery and emote through makeup. The effects were just spectacular, as well. Many of the sorcery effects were gorgeous, and I know I caught some (intentional, or unintentional, I don't know) references to those meme gifs that are supposed to mess with your head. It was beautiful, colorful, and I bet it would look just gorgeous in IMAX, or from someplace farther back from the screen than the second row, but I digress.
Is Doctor Strange my favorite Marvel film? Nah, Guardians of the Galaxy is more my speed, but it was still great fun, and up there with best of the MCU. It's fun, it's gorgeous, it's well acted, and the final face-off with the big baddie is just spectacular. Really, this is one you're going to want to catch in the theater, my friends. Maybe more than once, if you can find the time!
Doctor Strange has a run time of 1 hour and 55 minutes, and is rated PG-13 for "sci-fi violence and action throughout, and an intense crash sequence", according to IMDB. As always, remember to stick around for the mid-credits sequence, and the end-credits sequence, and since you're doing that, make sure to pick up your trash to make the usher's life a little easier!