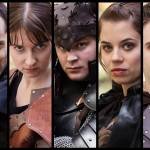 This year, at Gen Con, as I was saying hi to Shelly of Con Quest Journals, I had the pleasure of being introduced to Elizabeth Neale, who acted in the webseries LARPs, which had been picked up by Geek & Sundry, and was working on their second season. I took her card, was given their booth number, and I promised her I would check it out that evening, and then drop by their booth to let her know what I thought. That night (and due to exhaustion, the following morning), I had the pleasure of checking out eleven episodes of a series that wasn't only funny, but sincere, and showed respect to the subject matter of Live Action Role Playing. Impressed, I made a bee line to their booth to talk about the series, and perhaps garner an interview or two. Over the course of the convention, I had the opportunity to speak with the cast, the director, and the producer of the series, as well as catch their panel, and watch the series again on Sunday morning. How, before I go into all of this, though, I would say it is rather essential that you take a look at it yourself (Note: It would be rated R for Language, and Sexual Situations, so NSFW). In fact, here is Episode 00, that helps set the stage of the tale of the first season:
Did you like that? Yes, I thought you would! Now, go to this
Geek & Sundry Playlist
, and watch the rest of the episodes. I'll wait.
Did you watch it? Excellent, so you know that it's a series of short episodes, that touch on the lives of a group of live action role players, and how this game affects their lives both inside and outside of the game. Through these series of short episodes, you get to meet Arthur/Noctus, Brittany/Corillia, Will/Biff, and Evan as they welcome the newest member of their group, Shane/Astra, and explore not only their campaign, but their personal lives outside of their campaign. Over the course of an hour, we watch these folks touch on the sanctity of the GM's notes, learn the importance of separating a character in game from the player out of game, how to deal with those annoying "Let me tell you about my character…" stories, and how to deal with the loss of a character you have poured your heart and soul into. All of these stories are done well, and they are also done with respect. Unlike a lot of media, they do not treat LARPers as the butt of a joke. Instead, LARPing is used as the means to tell a story.
The director, Julian Stamboulieh, knew he wanted to tell this story using LARPing as a background, so he did something brilliant – he brought on Jon Verrall, a writer with a history of not only gaming, but also LARPing, to write the series. Jon also played Evan, the GM, in the series, as well as doing the fight choreography for the action scenes (note: I was unaware Jon did all of this until his interview. Note how embarrassed I was when I learned!). From there, they held auditions in their local community of Montreal, Quebec up in Canada, and ended up with a cast that worked very well together, and they all brought us a wonderful series!
While I know this post is fairly light in the whole "words" department, that's because I have a very special episode of the Indiana Geeking Podcast for you! I was able to sit down with almost the entire cast of Season 1, including the director and producer! This includes (in order, on the podcast):
Elizabeth Neale (Shane/Astra/Associate Producer)
Jon Verrall (Evan/Writer
Scott Humphrey (Will/Biff)
Jonathan Silver (Arthur/Noctus)
Julian Stamboulieh (Director)
Benjamin Warner (Producer)
So sit back, and enjoy the interviews!
Note to self: Do not attempt to do any future Gen Con interviews in the Magic tournament hall, especially underneath one of the large speakers. Told you I'd leave them in, Julian!
Really, folks, like I said on the podcast: while I try to give a focus to things happening here in Indiana, this show was just too much fun, with a cast that was friendly and approachable. This is a series that I've watched more than once, and I'm looking forward to season two. Here's where you can find them online, so you can get hooked as well:
Check them out, and get excited for season two!
Tony