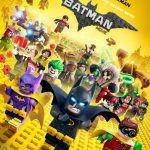 In 2014, The Lego Movie (Movie Monday 2/17/2014) introduced us to a Batman who brought "dark and brooding" up a notch, complete with his own dark and brooding theme song and his need to remind everyone that he was, in fact, Batman. Many people found that Batman, voiced by Will Arnett, to be one of the best parts of a really good movie. I know I really enjoyed it, as did the Geekling, so when we heard a new Lego movie starring Batman was going to be out on the Geekling's birthday weekend, we knew what we were going to watch when I visited them this past weekend.
In The Lego Batman Movie, Batman's life is supposed to be going great. Fantastic. Wonderful. He's a billionaire, he's got a bunch of toys with "bat" in the name, and he's, well, Batman. However, not everything is great. He has relationship and commitment issues. The new Commissioner of the Gotham City Police Department doesn't believe the city has really benefited from having Batman around since the, what… 1940's? On top of it all, he has ended up with an orphan in the house, a young Richard Grayson. So, what's Batman to do?
First, let me say this movie had both myself, and the Geekling, laughing our butts off through most of it, though sometimes it was for different reasons. The Geekling would laugh at a lot of the sight gags, or with the rest of the audience, and I would laugh at the throwbacks and the nods to past Batman media appearances. You could tell, starting from the opening shots of the Warner Brothers logo, this was a movie that wasn't going to take itself very seriously. I don't want to give too much away, but there are just SO MANY THINGS to catch in this film. Everything from throwbacks to earlier Batman films and television shows, to nods to other movies. For instance, if you have seen it, did you catch the flight number of the airplane at the beginning of the film? However, much like The Lego Movie, it also has a touching side, as Batman learns to realize he can trust others and have relationships.
We found movie a lot of fun, and the Geekling talked about it for most of the rest of the night, which with their attention span, was pretty good. We saw it in one of the Dolby Digital Theaters at AMC, which was worth the extra cost not due to the sound, or the picture, but because in Southern California, I wasn't finding many theaters showing the film that let you reserve your seat! Come on, SoCal! Movies used to be your bread and butter! Get with the program! Anyway, I'm not sure I'd want to go see this again in the theater, but I definitely can't wait for it to come out on blu ray, so I can try to see everything hiding in the background in the Batcave (I know I saw at least two different movie Batmobiles), and I just want to have it in the collection by The Lego Movie.
The Lego Batman Movie has a run time of 104 minutes, and is rated PG for rude humor and some action. There were some parts that made the eight year old Geekling a bit anxious, but it was still very enjoyable for them. If you like fun, Batman, and Lego, I strongly recommend giving this a shot.
Tony