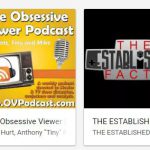 Happy Monday, my friends! Grant must have had a busy weekend, because when I checked the post queue this morning, he's got a bunch of draft titles, but no actual articles! It's all good, though, because I've been looking for a reason to touch on this subject, anyway, and rushing to get a post out before 10:00 AM Eastern is just a great way to help ensure the quality you all expect from this blog!
I used to listen to a lot of podcasts, back when I lived in California. I was driving over an hour to get to Disneyland, and then sometimes I would be incredibly early to my shift, because Southern California traffic patterns have instilled a sense of paranoia and time anxiety in me that I suffer through to this day. So, what I would do on the drive, is load up my Zune with podcasts to pass the time while driving and waiting. At the time, Nerdist and TANcast were my two go-to podcasts, because Nerdist was, well, Nerdist, and TANcast were three guys, around my age, goofing on each other and it was just fun.
Until I moved into the most recent Geek Cave (I move a lot. A friend thinks I'm in the witness protection program, I move so much), I didn't have as far to drive when I went to work, so I lost track of many of the podcasts I'd listen to. During this time, however, I became friends, at least on social media, with many local podcasters who run in the same circles I do. Since my current commute is about 35 minutes, and Google Music finally started carrying podcasts, I have started listening to them again. This time, though, I've been going through some of the episodes of the more local shows by folks I've known for a few years now. Today, I'm going to tell you about a couple of those shows, and why I recommend them!
The Obsessive Viewer
This is a local film and television podcast that talks about, well… movies, television, tropes, and the general industry of entertainment. Honestly, they have an entire elevator pitch that they open each episode with, and you'd think I'd have it memorized by now, but I haven't had coffee, and I'm drawing a blank! Either way, each week, Matt, Tiny, and (on occasion) Mike talk about movie news, their main subject (normally something current), and then do a little potpourri segment (whatever they like, as long as it smells good). In addition to the standard episodes, they will also do special episodes that cover a very specific property, like their most recent Stranger Things episode. They will discuss spoilers, but they will also give plenty of warning, and let you know in their show notes what the time stamp is, so you can skip past it.
One thing you're going to be seeing on the blog, concerning these guys, is Shocktober in Irvington. More information will be coming on Friday, and then next Wednesday (links will be coming, when the posts go live!), but it's a great celebration of local horror, held at the Irving Theater in Irvington! It's a fantastic event that celebrates many local things I enjoy.
The Obsessive Viewer is a fun podcast to listen to, especially if you have any interest in film and television. As you know, I'm a very superficial viewer of media (which is why I don't really write Media Monday anymore!), but these guys do dig a bit deeper into the subject matter, talking about why something works, giving good reasons why they think something doesn't, and just having a good rapport with each other. This comes out weekly, and you really want to get it on your podcast queue, if you haven't already! So, visit them on their website to see what's going on!
The Established Facts
One of my first followers on the blog was Avital, a cosplayer, writer, and fantastic human being. As I started running into people at conventions, she was one I ran into, and she started introducing me to her gaming friends. These friends all, as it turns out, run a podcast called The Established Facts. This is a podcast about "all things gaming," which means it covers tabletop gaming. It covers role playing games. It covers conventions where there is gaming. It covers video games. It covers all things gaming. It's a round table discussion, with various members coming in and out of the discussion, and it works very well. They are a lot of fun to listen to, and they have a lot of good information, not only about gaming, but about convention survival tips, as well!
If you are a fan of Indy PopCon, you might also be familiar with The Established Facts from their sponsorship of the podcast stage! In addition, they normally have a huge giveaway at their booth, and I personally love them because at the second Indy PopCon, they had a game trade, where you could bring in a game you weren't playing, and trade it for a game in their library! It enabled me to get more X-Wing ships, tools, and dice by trading in a game I had never, nor was I ever, going to play! You can find them on their website, and you'll not regret adding them to your podcast list, if you're into conventions and gaming!
Now, these are just a couple of the many great podcasts we have in Indiana. Some are Geeky, some are beer-related, some are from local DJs, and I know I don't know them all! Do you know of a local, Geeky (not beer, SEO, etc) podcast I should listen to? Give it a plug in the comments!
See you all tomorrow, with Tuesday Tidbits!