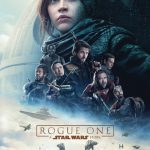 In 2015, there was a huge announcement that made a lot of Star Wars fans sit up and take notice. Of all the marketing opportunities out there, Disney was teaming up with Covergirl to market a make-up line for Star Wars fans. Last year, they released lipstick and mascara based around Stormtroopers, Jedi, and droids, and this year, from what I've seen, they're coming out with a new shade to celebrate Red Squadron, from A New Hope. That line is, of course, Rouge One.
Wait, no… sorry, I was thrown off for a second by the sheer amount of people misspelling Rogue One. Seriously, go do a Twitter search for the #RougeOne hashtag. I'll wait.
In all seriousness, the much-anticipated Rogue One: A Star Wars Story premiered this past weekend, and unlike Star Wars: The Force Awakens, I've only had the chance to see it once, thus far, and that was this past Saturday afternoon. Now, those that know me know I'm a Star Wars fan. I've grown up with the films, worn costumes, built prop replicas, full nine yards. I can find good in the prequels, and enjoyed Force Awakens, but my love is really for the trilogy I grew up with, the films now known as Episodes IV, V, and VI. When I heard about the films that fit around the "main" story line, the "anthology" films, I initially thought "Disney is doing what they can to get a return on their investment, aren't they?" Then, as more news came out, I was intrigued. Then, when the trailers came out, showing the Rebel base, X-Wing Pilots, Rebel Fleet Troopers, Star Destroyers, and the Death Star? Yeah, I was hooked. When the next trailer came out, I had the date on my calendar, and I was set to go, and I stopped looking at any more of the marketing for the film, so I wouldn't be aware of any plot points or anything spoiler-iffic.
I know that sounds weird, not wanting to have this movie spoiled. See, for those who don't know, if Revenge of the Sith is Episode III, and Star Wars is Episode IV, Rogue One is III.VIII or whatever 3.8 would be in roman numerals. The storyline for the film, from IMDB, says "Jyn Erso, a Rebellion soldier and criminal, is about to experience her biggest challenge yet when Mon Mothma sets her out on a mission to seal the plans for the Death Star. With help from the Rebels, a master swordsman, and non-allied forces, Jyn will be in for something bigger than she thinks." Yes, this film leads up to the acquisition of the Death Star plans by the Rebellion, how they got into the hands of Princess Leia Organa, and how the events of Star Wars started. So, you know what's going to happen by the end. However, in this case, it's not just the destination, but the journey, that's important (to steal a cliche).
I tell you, it's a journey. Starting at the very beginning, when you meet Jyn at a young age, to her being drawn into the Rebellion, to the acquiring of the Death Star plans, it's all very intense. I mean, that's the best word for it. This isn't light and fluffy. There's no Jar Jar tagging along as comic relief, or BB-8 rolling around being adorably awesome. No, the droid is voiced by Alan Tudyk, and he's a deadpan, sarcastic arse. This shows the side of the Rebellion that isn't all anti-Wookie medal ceremonies, or Ewok dances. This shows soldiers doing their jobs, it shows disagreements in leadership, it shows death and destruction on both sides. The build-up is kind of slow, and it brings you to way too many worlds (CinemaSins are going to have a field day with that), but it pays off very well, through the end.
I'm not a "spoiler" guy, so you know I'm not going to delve too deep into the story, or possible cameos, or Easter eggs. However, I know I caught a lot, from references to Star Wars Rebels (as some people noted from one of the trailers), to uses of pre-production art that had been discarded. There are other bits, pertaining to the possibility of cameos, that major news outlets have run, so if you're curious, just do a search for any of those. However, you know there are some things to keep your eyes open for, and some things that are going to make you smile.
So far, I've seen Rogue One once. I'm hoping, before the year is out, to get at least another viewing or two under my belt, maybe even in the 70mm IMAX in downtown Indy. This was a damn fine film by Gareth Edwards, and now I need to rebuild my Rebel Fleet Trooper costume. If you haven't seen it yet (and based on the $155 million US/$290 million worldwide opening weekend, it looks like many of you have!), go see it. Also, if you want to hear more of my thoughts (both non-spoiler and EXTREMELY HEAVY spoiler), I'll be recording with the Obsessive Viewer podcast for their Rogue One episode, which should drop later this week.
In the meantime, Rogue One: A Star Wars Story has a run time of 2 hours and 13 minutes, and is rated PG-13 for extended sequences of sci-fi violence and action. It's showing in IMAX, in 3D, in IMAX 3D, and in standard cinemas. Go see it, and remember:
"I am one with the Force, and the Force is with me."