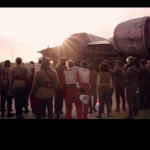 San Diego Comic Con has wrapped for another year, but the after-con sales of convention exclusive merchandise at inflated prices remain. Another thing that remains is the YouTube videos of panels, trailers, and exclusives that were shown at the different panels that happened over the course of the con. Some of those videos have made their way out to the wild by the studios, while others come in the form of sketchy camera phone videos that get taken down fairly quickly. While I have not seen any of the latter, there are a few of the former that have really piqued my interest, some more than they should have. So I figured, today, we'd do something slightly different, and take a look at a few of these.
A few things before we begin: As I'm just pulling videos from major sites off YouTube, I will be linking to most of them, as opposed to embedding them in the page. While I'm fairly certain that they'll get their numbers from people viewing embedded videos, I don't want to risk it. Also, I will not be linking to any of the bootleg cell phone videos out there. There are some, like Deadpool, that aren't ready for the public yet, as they need to finish some FX shots. I'm going to respect that, and leave those alone. Also, as always, I prefer alphabetical order, as to not show preference.
So, what does that leave us?
Ash vs The Evil Dead – I know there are those out there who do not appreciate the original Evil Dead films, and Army of Darkness. I am not one of those people. This trailer for the Starz series looks phenomenal, and it almost makes me wish I still had cable.
Batman v Superman: The Dawn of Justice – While I'm still mixed on this movie, the trailer showed it to be just as dark and bleak as we all hoped a film starring the big blue Boy Scout would be. Bonus points for a creepy Lex Luthor.
Doctor Who Series 9 – The Doctor with a guitar. Really, do we need to say more than that? Of course, I still need to finish Series 8 and the Christmas Special, but this at least gave us a premier date for Series 9, so it gives hope that 8 will be up on Netflix soon.
Star Wars: The Force Awakens – This special piece, showing the importance of bringing back practical effects to the Star Wars universe, made me happy. It made me very, very happy. It wasn't just the shots of the new X-Wing Helmet, or the groups of X-Wing pilots (picture at the top of the article), it was seeing shots that were not completely in front of green screens. It was seeing aliens made out of foam and silicone, not body suits and ping pong balls. Yes, while there is still CGI in the films, it looks to be used to enhance, not as a crutch, and this gives me hope for the film in December.
There are also a couple video game trailers:
Lego Dimensions: Doctor Who – I have not been sold on the Skylanders/Disney Infinity/Amiibo games that have come out over the past few years, but the new Lego Dimensions game has me curious. Watching this trailer has me even more curious, and interested in checking this game out.
Transformers: Devastation – This is a Transformers game done in the Generation One/80's cartoon/toy style. Sure, Bumblebee is a hatchback, and not a VW Bug, but I am not letting that take away from the enjoyment this trailer has brought me. Now, I just hope the game play is as fun as the trailer!
So, did you see anything cool coming out of San Diego Comic Con? Post what you like in the comments! Just please, no blurry, shaky cell phone videos that are going to get pulled by Fox!
Tony