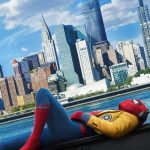 As we were sitting in the theater, waiting for the after-credits scene for Spider-Man: Homecoming, I came to the realization that, since the time I worked in the FX Industry back in 2000-2002, when I heard a co-worker ranting about having to run foam on even more Spidey suits due to theft from the set, I have seen three different versions of the webhead. Is it just me, or is this excessive? Either way, it's here, and as the latest entry in the MCU (as a joint production between Sony and Marvel), that means I'm going to watch it. Sadly, due to Indy PopCon, I wasn't able to catch it on opening weekend, but I was able to see it this past Friday evening, so that means that I'm writing about it today.
First, a bit about the film. Spider-Man: Homecoming starts with the clean-up of New York City after "The Incident". This sets up Michael Keaton's character, before flashing over to Peter Parker heading out to Germany to go head to head with Team Cap. After that battle, he's dropped off at home in Queens, wondering what his next mission is. He is super, hyper-focused on becoming an Avenger, and doing the whole super-hero thing, to the point where he drops out of extra-curricular activities in school, ponders dropping out, the whole nine yards. This becomes his focus when he first runs into the group introduced at the very beginning of the film, which includes the Vulture, much to the annoyance of Tony Stark and Happy Hogan, who have been watching over him.
Homecoming had some great acting in it, especially from the cast in the school. I will admit, they do feel like teenagers, as opposed to thirty year olds pretending to be teenagers. Watching Ned freak out over learning Parker is Spider-Man is just hilarious, funny, and real. In addition, watching Keaton play Toomes/Vulture was very enjoyable, as well. It's fun seeing the Batman as a bad guy. Finally, seeing Parker trying to figure out his suit, and his new web shooters, and occasionally eating it and messing up was just fantastic. However, as much as I hate to say it, there were a few things that had me scratching my head.
First off, where did the whole power and responsibility thing go? I mean, I'm thrilled we didn't get yet another rehash of the death of Uncle Ben, but that doesn't mean we have to also ignore the lessons he learned from that experience, and how (in my mind) it caused him to start acting a bit more mature and thoughtful. Instead, we get Peter wanting to drop out of school, skip out on tests, all to do his super-hero bit, even when there is no actual super-heroing to be done. While this shouldn't have taken me out of the film, it kind of was nagging at me through most of it.
Second, what the heck is going on with the timeline? It starts in the aftermath of the Avengers, then segues into the events of Civil War, and ends with the Avengers moving from the tower, to the new facility shown at the end of Age of Ultron and in Ant-Man, both of which were before Civil War? Could someone show me a timeline, or graphic, or even internet meme with cats, where this makes sense?
I don't know, I guess that, especially after Guardians of the Galaxy Vol. 2, and Wonder Woman, I was hoping for a bit more in this film. It's solid, it's a decent entry, and I am glad I caught it in the theaters, but I just guess I was expecting something a bit better, especially for a film that was bringing the character back home. I don't hate it, I'm not going to dissuade anyone from going to see it, but I didn't love it as much as I've loved almost every other Marvel film I've seen.
Spider-Man: Homecoming was released a week ago, and has a run time of 133 minutes. It's rated PG-13 for sci-fi action violence, some language, and brief suggestive comments. I will be picking this up on Blu Ray when it's released, but I'm not chomping at the bit to watch it again, like I was Guardians of the Galaxy or Doctor Strange. We'll see how it holds up to some more viewings, when I get the disc.
See you tomorrow,
Tony