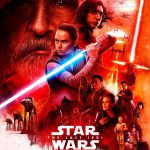 A couple years ago, I wrote some brief thoughts about Star Wars: The Force Awakens (link). In those thoughts, I said "JJ got it."  Looking back at my repeated viewings over the last few years, I feel that, yeah, he kinda did. He got what people enjoyed about the previous films, and repeated a lot of it in TFA. This caused him to get a lot of grief for just rehashing what had come before, which can be fair, but he did it in a way that was fun, so I wasn't too bugged. I mean, heck, Marvel movies stick to a formula, and I enjoy those, right?
Jump back to this year, and we have Star Wars: The Last Jedi. This time, the director at the helm was Rian Johnson, who up until now, I had seen absolutely nothing by. No matter, he was the guy with the keys to the kingdom, and that means this Wars fan was going to check it out. However, I saw the first trailer, and while I thought it was cool, it didn't hit me like The Force Awakens or Rogue One did. That's okay, though, because let's face it, it's 2017 and I'm not getting much joy out of anything right now, right? As we rolled into December the blitz continued, with the merchandise, and the trailers, and the television spots, and everything that I just try my hardest to avoid. Leading into opening night, I saw a few mixed reactions, but I was able to avoid spoilers until my 9:00 AM showing on Saturday, when I sat down with Lizz at the Dolby Theater at Hassleton Castleton Square Mall, and hoped for some stars, some wars, and hey, why not some Porgs?
I really enjoyed it.
Now, this is the point where I talk about what the movie is. You know what? You know what this movie is. It's the latest Star Wars film. If you don't care about Star Wars, then you probably aren't reading this blog post, to be quite honest. This is also the point where I tell you this post is spoiler-free. Sure, I mention Porgs. They're everywhere, they're not a spoiler. Nope, this post is feelings about the film.
Speaking of feelings, last night, on Twitter, I posted that, "I probably can't make tomorrow's post just be, 'I liked it, I had fun. I have questions. I'm looking forward to the next one. Don't come at me, I really don't care.' Right?"
Well, you know what? I DID like it. I DID have fun. I DO have questions. I AM looking forward to the next one. I don't care if you think it's predictable. You're entitled to your opinion, and I'm entitled to ignore it because, well, that's what the internet is about!
Okay, now that's out of my system…
The Last Jedi felt, in my opinion, like a completely different movie than any of the others. I'm still trying to put my finger on why it felt different, though. Was it the more pronounced sense of humor in many of the scenes? Was it the way it treated the characters, ignoring many of the fan theories and heroic trope they seem to be stuck in? This is honestly going to take future viewings, which might not come until it's out on DVD (time), but that doesn't matter. I enjoyed every minute of it, every set piece, and hell, even the Porgs. Is it without fault? Heck, no. None of them are. It was, however, still a good film, well worth the money, and it was a fantastic morning with Lizz.
Star Wars: The Last Jedi is currently out in theaters, and pulling in major money. Heads up to everyone, though! It's over two and a half hours long. We got into our theater at 8:45 AM, and didn't get out until 11:50 AM. Go easy on that large soda!
See you all tomorrow,
Tony