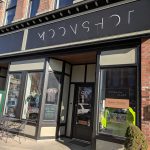 Right on the courthouse square in Noblesville is a new game store that I first heard about through friends and followers on Twitter. It took a bit before I was in the area, but thanks to a work meeting on the north side of Indy last week, I had the perfect excuse to head over to Noblesville to visit the first shop I've heard of opening out there, since I started this blog in 2010.
Moonshot Games just opened a few months ago, and since I'd heard a lot of good things about them, I went in with kinda high expectations. Pulling up to find parking in front was a good start! I walked in the front door to find a very clean and open shop, with hardwood floors, board games across one side, and collectible card games AND sports cards along the other. I was greeted by the gentleman behind the counter, who was working with their CCG stock, and I was asked if there was anything he could help me with. I told him I'd let him know, and started looking around. They were fairly well organized, with games sorted by type, instead of just a wall of games where you're trying to figure out the rhyme and reason. They had sections for Party Games, Strategy, Greatest Hits, Hot, Under $20, and more, as seen in the photo gallery at the bottom of the page. They had X-Wing and Armada miniatures, they had role playing miniatures, they had RPG books, and of course they had paints. Behind the counter, they had a LOT of Magic: The Gathering and Pokemon cards. In the cases, they had single cards for sale, both of the collectible card game and sports card variety. We'll jump back to the sports cards in a minute, though.
In the back of the store is the open gaming area, which has a decent number of tables. When I was visiting, there were a few people playing back there. There's also snacks, a small game library, and a fairly impressive soda cooler, for those who need a sugar boost during their Commander game. Going back to the sports cards, the storefront is also home to Bruno's Shoebox, which carries sports cards and sports memorabilia. In fact, as I was there, there was some active selling on the sports card front, so happily business is doing well on that front, and it shows that the two worlds can co-exist.
As I was looking around, I had the opportunity to speak to the owners and store runners. I learned that one of the things I liked about the store, the clear labeling of the sections, comes from the unique opportunity they have on the square in Noblesville. They aren't a shop in a strip mall, or in their own location, like many around. While they do have people visiting to play games, like the other shops, they also have people who are walking around downtown, look at the shop, and stop in out of curiosity.  Having the areas labeled as they are makes it easier for someone who isn't as familiar with tabletop gaming to find something they would want to play! Plus, as I've pictured below, they have a shop dog, a Husky named Blue. I had seen the pup on their Twitter Feed, and I had even mentioned to them that Blue had best be there when I get the opportunity to visit, and I was in luck! Blue is friendly, with a habit of laying at your feet and resting their head on your shoes if you're not paying attention to them. So, watch your step!
I'm happy that I was finally able to visit a friendly local shop in Noblesville. If you have the opportunity to drop by, I recommend it. The information you need is below, along with a slideshow of images, showing the shop, and Blue. Remember, these photos were taken in December of 2018, so stock levels and products will vary, depending on when you see this blog post. Always remember to call a shop if you're looking for something particular, and don't get mad at them if you see something in my pictures that they don't have in stock when you go visit!
Who are they? Moonshot Games
Where are they? 50 N. 9th St. Noblesville, IN 46060
What are they? A Friendly Local Game and Sport Card Shop
What is their parking situation? Free street parking around the square, plus affordable paid lots nearby.
When are they open? Monday 10:00 AM to 6:00 PM, Tuesday through Thursday 10:00 AM to 8:00 PM, Friday 10:00 AM to 10:00 PM, Saturday 10:00 AM to 6:00 PM, Closed Sunday
What is their phone number, in case I get lost and need directions? 317.662.2889
Just kidding on the phone number. Internet! Where are they online? You can see what's happening on their Facebook Page, their Twitter Feed, or their website.
This slideshow requires JavaScript.