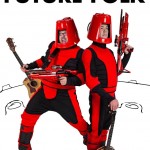 I do admit, I enjoy me some banjo. I'm attempting to learn, mainly listen to music that includes the banjo, and have even talked about banjo documentaries on past Movie Monday
blog posts
. I'm also a Geek that enjoys science fiction movies, especially those of a cheesy variety. I don't remember where I originally read about "The History of Future Folk," but I when I learned it involved space aliens, and a banjo, I knew it was something I was going to have to check out. Lucky for me, they recently put it up on Netflix Instant Streaming, so I was able to fire it up, and check out what they call "Probably the only alien-folk-duo sci-fi-action-romance-comedy movie ever made. Which totally makes it the best alien-folk-duo sci-fi-action-romance-comedy movie ever made."
"The History of Future Folk" is a film about a space alien who comes to Earth from the planet Hondo, looking for a place for his people to relocate to before a comet smashes into their planet. Right as he's getting ready to release a virus to wipe out the population, he hears a sound he's never heard before: Music. He falls in love with music, and then the Earth, and needs to figure out a way to keep his promise to his home planet, while saving the planet he's come to love, all while playing the banjo.
This was a very enjoyable film, with good comedic parts, enough romance to appeal to the fans of that genre, and some surprising action scenes. The cast was excellent, and Dee Snyder was a welcome surprise as the owner of the bar where the Future Folk play. The music was excellent, and I'm sorely tempted to download the
album from Amazon
, if I didn't have so much trouble with their MP3 downloads in the past. Over all, the film was just a joy to watch, and it was a really original piece of work that worked out REALLY well.
"The History of Future Folk" has a run time of only 86 minutes, and is not rated. It is available on Netflix Instant Streaming, as well as on
Amazon in both DVD and Instant format
. I am going to be very honest with you, I really think this is a great little film, and I'd love for you to take that hour and change sometime, pull it up on Netflix, and give it a shot. When you do, give me a shout in the comments with what you thought.
Hondo!
Tony