This post is part two of my long delayed wrap-up for Gen Con 2018. For part 1, click this link.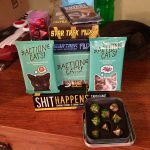 On Saturday morning, Lizz and I woke up bright and early for the show. We were both rather sore, both due to having to sit in the wheelchair, and having to push the wheelchair, more than either of us were used to. Still, we were up and at the World of Wonders parking garage early enough to get a parking spot that let me easily get the wheelchair out of the Cardis, and we made our way over to the center.
We spent the first part of the day talking to people in the common areas around the vendor hall, before sliding into the hall itself to try to get some shopping done. Over the course of a few hours, I was able to check out some Star Wars Armada and X-Wing future releases (see pictures below), we got some more dice, Star Trek Fluxx (Affiliate Link), Star Trek The Next Generation Fluxx (Affiliate Link), the Star Trek Fluxx "Bridge" expansion (Affiliate Link), and Action Cats (Affiliate Link). The dice were hunted for, all the Star Trek Fluxx games were hunted for, and Action Cats was something we got to play because when we tried it out, it looked like fun. Plus, we enjoy party card games, like Buy The Rights (Affiliate Link), that don't make us feel like we're adding to the horribleness that is surrounding the world.
And speaking of horribleness.
You know, for the past few years in my posts talking about Gen Con, I have linked to a blog post about handicap awareness from local author Hans Cummings. Lord, how I wish more people would read that post and take it to heart (you can find it here). Sometimes, everything was fine. Most of the time, though, the lack of self-awareness was astounding, as she would try to get closer to a table, like Chessex, to look at dice, and people would keep stepping in front of her. While we were walking the aisles, sometimes you'd have to wait for a break in "traffic" to be able to merge, and we'd have people step around us into a break we'd get ready to take. If it wasn't for the fact it would have jarred her leg, there would have been some ankles taken out. I know, in one instance, there was a couple of guys (of course) standing and talking off to the side of one of the narrow aisles, and one of them had a rolling suitcase sticking out into the aisle behind him, which stopped us until Lizz finally kicked it back towards him with her good leg, and we made it past him. Seriously, people, watch out for our fellow gamers in wheelchairs, or on crutches, or with canes, or whatever they need to also be able to enjoy the convention. We're all crammed in there together, let's try to watch out for each other.
After we left the vendor hall, we hauled ourselves over to Lucas Oil, where we ran into Rachel of the Five-ish Fangirls (link) and we all caught a panel called "'Don't Be a Dick' is Not a Code of Conduct." This was a really interesting panel, aimed towards those who run online communities, events, and even conventions, talking about how important it is to have a true "code of conduct" for whatever you're doing. It is important to set forth expectations, how to report infractions, list the consequences, and then follow through on them, without exception. Many places just say "Don't be a dick", but do people who act like dicks really CARE if they're being one? Also, once again, it's important to hold every person in that group, or at that event, to the same standards. How many times have we been somewhere, and ran into a real piece of work, and when you say something, they go, "Oh, that's just (INSERT NAME HERE). That's how he is. Don't pay him any mind."? That is HORRIBLE. Don't frakkin' do that! Just… don't.
This panel ended a bit before two, and then at three was The Shake Ups: Cartoon Dance Party over at the Westin. This meant we had just a hair over an hour to get across the crowded convention center, across to the Westin, and then to the ballroom before our friends got on stage. Despite the best attempts of the crowds, and friends we'd pass in the halls, we made it with time to spare, met up with more friends who were also there to see the show (if you don't follow Xan on Twitter, do so! Her art is adorable, and she posts it often!), and got really good seats for the show. The show was fantastic, a great mix of their songs and cartoon theme song covers, and the crowd was having a blast batting balloons around, and getting the kids up front to dance. All in all, it was a great show, and after dealing with the vendor hall and maneuvering around the con, we hung out with the band as they tore down, then got the heck outta downtown, where we grabbed dinner in Broadripple, and went back to the Geek Cave to collapse and rest until it was back to work on Monday.
This year's Gen Con could have been a complete bust, with neither of us in tip-top shape, and not being able to even look that close at events until the week before the convention. Still, despite having to skip Thursday, along with our panels on Gaming for Social Activism, and the local Acapella group the eL33ts, we had a good time. Even with 60K+ people, we have no problem finding friends to talk to and grab meals with, plus we enjoyed hitting panels and are going to make that a larger part of our experience the next time we go. If we're able to go again in 2019, we're hoping to go without being hit by another car, and this time we'll be ready to do interviews again, along with the panels. For instance, I had a great conversation with Gordon Smuder on Friday after the Puppet Building panel, and in retrospect, I would have LOVED to have a microphone on during it.
Either way, though, huge thanks to Gen Con for allowing Geeking in Indiana to cover the show, and for sticking around Indianapolis! On Monday, we'll have thoughts from Lizz, as she attends her second-ever Gen Con, her first as a member of the press, and her first in a wheelchair! In the mean time, here are some more pictures from Saturday, and we'll see you next week!
This slideshow requires JavaScript.
Note: Geeking in Indiana was able to attend Gen Con 2018 due to press passes provided by the convention. These gave us access to the convention, just like a standard 4-day pass, and access to the press room, but nothing else. All event tickets were purchased by the blog, and all opinions are our own.