$8.00
Hard enamel pin that features Reykjavik the Geek Cat!
47 in stock
Description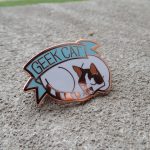 You might be familiar with Reykjavik, or Reiki, the "Geek Cat", from his Instagram and Tuesday Tidbits appearances! Well, thanks to local artist Lee Cherolis, you can now have your very own Geek Cat, in pin form! The "Geek Cat" hard enamel pin is an iron pin with copper metal finish, measures 1.5″ across, and shows him doing what he does best: sleeping! In addition, the new pins come with rubber fittings for the pins, and the "State Logo" on the back, denoting it as a "PiNDIANA GEEKING" item!
In addition, for each Geek Cat pin sold, I will be donating $2.00 to the Exotic Animal Rescue and Pet Sanctuary, a local rescue that works with all sorts of critters, from birds and reptiles to rats and ferrets! I will be doing a monthly accounting of all items sold, and dropping the donation into their PayPal donation box! So, you get a cool pin, you support the blog, AND you support a local non-profit!