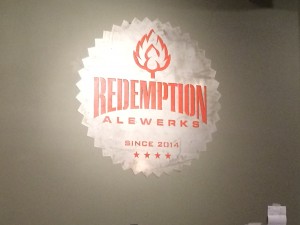 This is a little different than the normal establishments I write about, but hear me out. As many of you know, I'm a fan of craft beer. I like trying the different things their brewmasters come up with, or just tasting their take on a standard. I also like good food, as you can tell by my girth. When Redemption Alewerks opened near Geek Cave 3.0, I knew I wanted to check them out. The menu was tasty, the beer was good, and I knew I was going to be back, but (sadly, as these things happen) I never had the chance.
Flash forward to Monday, when I get a message on the Geeking in Indiana Facebook page from one of the staff members, telling me about their game night, which they hold every Wednesday. After a short discussion via Facebook, I figured "What the heck?" and told her I would come check it out! So, I grabbed a few pieces of vinyl (more on this in a bit), my copy of Batman Fluxx, a deck of cards, and headed over to Redemption after work.
Once again, I've been to Redemption before. I love how spacious the floor is, with plenty of table room and seating for folks wanting to grab a bite to eat, a drink, and talk. Now, I'm looking at it with an eye for gaming, and it's still holding up fairly well. The small tables are great for simple card games, and the larger tables have plenty of room for character sheets and dice, or to lay out a small X-Wing dogfight. At this moment, right at 7PM, though, they were filled with folks finishing dinner, even though there were a group of people playing with the big Jenga blocks at the front table.
As I was looking around, I was greeted by Taylor McGarrah, the server and Resident Geek Liaison (this is now her title, Redemption. Please make it official, and perhaps get her some business cards) who messaged me on Facebook. We grabbed a drink, pulled up a table, and started talking about their game night, and what they were wanting to do. While Redemption isn't a "Geek Bar", it is ran by Geeks and Gamers. For example, Taylor found the blog while going through the forums for the Rebel Legion, while looking for information on X-Wing Pilot costumes! Matthew Carlton, co-owner of Redemption and the Chief Technology and Marketing Officer, loves gaming, having been to the last nine Gen Cons, and running games for friends at home. They love games, which is why they wanted to start a game night. While Redemption has a small selection of games, consisting of standards like Monopoly and Scrabble, to more adult fare like Cards Against Humanity, they are looking to expand their collection, and they are also encouraging people to bring their own games in.
In addition to Wednesday night being Game Night, it is also B.Y.O.V. (Bring Your Own Vinyl) night! Not only do they have space for you to play your games, good food and drink for you to consume while doing so, they also have a record player that wants your vinyl to spin in it! As we were talking, selections included the Ghostbusters soundtrack, and a Led Zeppelin record Taylor brought in. It was something that was just pretty cool, and makes the evening just a bit more fun and interesting.
I spoke with Taylor and Matthew for about an hour and a half about gaming, costuming, comic books, and their location. Do you want to know the big reason why they want to have some great gamers in on Wednesday nights? So they can hopefully join in and play games with great people. Matthew is looking to modify the game selection a bit, weeding out some of the games that people don't play, and looking to add some standards like Settlers of Catan or Ticket to Ride into the mix. Just don't expect him to throw his copy of Shadows of Brimstone into the pile any time soon!
This slideshow requires JavaScript.
Do you have a group of friends you like to play Magic: The Gathering with? How about a Pathfinder group looking for weekly game space? Also, are you a game store, looking to exchange a copy of Settlers of Catan or Ticket to Ride for some publicity or an exchange? Here's the information on Redemption:
Who are they? Redemption Alewerks
Where are they? 7035 E. 96th St. Suite K, Indianapolis, IN 46250
What are they? A locally owned brewery and eatery, with Game Nights every Wednesday
When are they open? Monday through Thursday, 11:00 AM to 12:00 AM, Friday 11:00 AM to 1:00 AM, Saturday 11:00 AM to 1:00 AM, Sunday 10:00 AM to 10:00 PM. Game Night/B.Y.O.V. Night every Wednesday, starting at 7:00 PM, the same night as $5.00 off Growler fills!
What is their phone number, in case I get lost and need directions? 317.348.3330
Just kidding on the phone number! Internet! Where can I find them online? You can find their website, which lists all of their events like open mic nights, game nights, and more, here! They also have a Facebook Page, as well as a Twitter feed, which will also list specials and events!
Honestly, if you're looking for a friendly gaming place with a friendly staff, good food, and fresh local beer, especially if you're on the north side of Indy, Fishers, or Carmel, you can't go wrong with Redemption. Check them out!
Tony