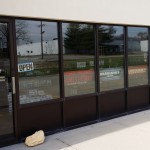 Folks, remember when Carmel was a vast wasteland of Geekery? When I came back to Indiana in 2010, there didn't seem to be much of anything there. Now, not only is Carmel getting their share of shops, they have unlocked their "Wargaming Shop" achievement!
Sinclair Games opened their doors last Saturday, November 15th. Located off of West Carmel Drive, just past Rangeline, they are in a storefront on the north side of the road. Walking in, you find a store chock full of Warhammer, Flames of War, Warhammer 40K, plus a selection of other board and mini games, like X-Wing, Star Trek, and Dungeons and Dragons, in addition to all of the standard fare that a mini gaming shop should carry, like paints and tools. When you look around, you start wondering where you can play, with all of the product in the shop space.
Then, the owner tells you about upstairs.
Above the shop is another level, with 5 terrain tables and a shelf packed full of scenery and additional terrain. Now, I'm not very knowledgeable about these sort of things, having been able to avoid falling into the money sink of Warhammer minis, but I was pleased by the setup he had upstairs. Some of the pictures I took are below:
Sinclair Games came down to Carmel from the city of Kendallville, where he used to carry more than just minis. However, as work brought his family down here, he decided to shrink his shop down to what he really enjoys, and now we have Sinclair Games Carmel!
Wargamers, I encourage you to check them out! The owner is a great person, and I talked with him at length when I visited. He's really looking to bring some gamers, and have some glorious battles on his tables. Grab your minis, and go forth into Carmel, and have glorious battles!
So, here's what you need to know:
Who are they? Sinclair Games
Where are they? 112 W. Carmel Dr. Carmel, IN 46032
What are their hours? Tuesday, Thursday, and Saturday 10:00 AM – 5:00 PM, Wednesday and Friday 10:00 AM – 10:00 PM, Closed Sunday and Monday.
What is their phone number, if I get lost? 317-815-4800
How can I find them online? You can get more info on their Facebook Page!