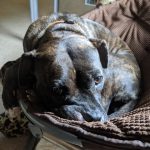 Back in April, I wrote about how I was going to start using my Twitch account more often (link). Well, that stuck around for around a month, and then it got pushed to the side by another project, that has since been pushed to the side by my inability to sit at my desk for six hours a day for work, and then for another few hours later in the evening to do writing, or audio editing, or streaming, or….
You get the idea.
However, today I wanted to bring up a couple of things about Twitch that I'm either scheduled for, or thinking about doing in the next week or so. Not a really long post, I admit, but hey, I'm still getting back into the swing of things.
First things first, as you might have seen if you follow my social media accounts, I participate in Extra Life, along with some co-workers. Due to some of the hiccups last year, with the attempted denial of service attack during the game weekend, we've decided not to put all of our eggs in one basket, and get our 24 hours of gaming in over the course of a couple hours a month, through 2020. So far, we've been doing pretty good, with $1,286 raised of our $2,537 goal. Tonight, we'll be doing our next stream, and since tomorrow's National Video Games Day, we're streaming a game called Trine 4 instead of one of our normal board games. Normally, I just use a Spectator mode, run the stream, and moderate the chat, but tonight I'm going to play, as Trine 4 has no Spectator mode. So, if you'd like to pop in, perhaps donate a bit of coin to Riley Children's Hospital (our chosen hospital in the Children's Miracle Network Hospitals system that Extra Life raises money for), and watch some folx bag on each other while playing games, then feel free to drop by. Here's the links you'll want to know!
Andromeda Galactic's Twitch Channel – This is the channel we use to stream Extra Life, and might eventually do some tech talks and product demonstrations on. Feel free to follow!
The Andromeda Initiative's Extra Life Page – Here's our team page for Extra Life. Now, I'm gonna be selfish and also give you all the link to my page, as I'm trying to raise $1K and I'm only about 30% of the way there, and I need every boost I can get.
Andromeda Galactic Solutions Twitter – Okay, this might also be a bit self-serving, but this is the account you can follow on Twitter to see when streams are coming up, along with information about products, and the occasional bad programming joke meme. Full disclosure: I'm their social media manager, and I run that Twitter feed.
Once again, this is something I do with co-workers, and as much as I try not to mix my "day job" with my "hobby job," I feel I'd be doing our team a disservice if I didn't mention it.
The other thing I've been mulling over is going back to streaming once or twice a week, but instead of playing a game, I'll host a Watch Party. Twitch recently announced they've opened up the ability to host a Watch Party to all of their streamers, and since I'm a Amazon Prime user, and Amazon Prime has Star Trek on it, I figure, hell, why not start a watch through of all of the Star Trek series? I've got a lot going on next week, but I'm thinking about firing it up the week of the 21st, just watching an episode back on the old schedule of Tuesday and Thursday. If you'd be interested in that, feel free to give me a follow over at my Twitch account, and keep an eye on my Twitter feed to see when I start, and when I'm actually doing it.
So, there's a few other ways to get some more Indiana Geeking in your life. I hope to see you on the stream tonight, see you at the Watch Parties when they start, and in the meantime?
Stay safe, wear your damn mask over your mouth and nose, maintain social distancing, drink Ovaltine, and as always, be excellent to each other.